A new initiative by the Houston Independent School District (HISD) is yielding positive outcomes for Black males who want to pursue a higher education.
Last August, HISD established the Miles Ahead Scholars Program which offers support and mentorship to Black males. The program was piloted at three schools in the district including Evan E. Edward Worthing High School, Kashmere High School and The Wheatley School.
"Each of them have a rich and long legacy in the city," said Haskel Harvey, senior program manager of the Miles Ahead program. "Although they have been in the media for a lot of negative things, we also know there are a lot of positive things happening in the schools and a lot of talent walking the hallways."
To gain the funding, Texas state senator Borris Miles secured a grant from the state legislature with the goal of increasing college access among underrepresented students.
"I really want to thank Senator Miles for making this possible," said Worthing High School principal Khalilah Campbell-Rhone. "Now, we are able to do things that other campuses have done but we didn't necessarily have the funding or the manpower to do and this program offered us both of those things."
The first cohort consists of 60 students in 9th and 10th grade and will continue to follow them until they graduate from high school. More grade levels will be introduced as the program progresses. The students were chosen from the top 30% of their class.
Participants were first introduced to the program at a day-long camp over the summer. The logistics and goals of the program were laid out and students had the opportunity to meet and develop relationships with one another.
As part of Miles Ahead, students are enrolled in the program's rigorous classes at their individual schools, many that are designed with real-world scenarios and discussions. For example, their math class covers financial literacy while conversations surrounding race, cultural competency and masculinity occur during an English course.
The program's goal is to ensure that each student passes at least one AP or dual credit course, score a minimum of 1200 on the SAT and eventually enroll in a selective college or university.
To accomplish that, students receive college advising, SAT and ACT preparation and they are also connected to mentors, who are men of color, from the local community.
"They show them how to navigate some of the social challenges that we know students face in low economic areas and make sure they make that transition from high school to college," said Harvey.
In terms of the challenges, Harvey said that some students feel that their peers aren't always equally committed to college. Other social issues such as gangs and drugs also create distractions.
"Even things that are not just totally negative but are still factors like parents wanting them to immediately contribute to the household financially, so they have to work," he added. "Those are some of the challenges that they share with us, that they are facing."
With last semester's focus on activities related to community college, the program will now look to include college visits as part of the curriculum and involving parents into that process.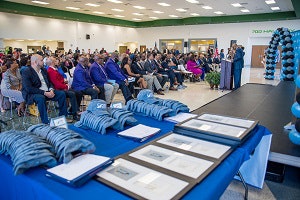 "Often times, students go on college tours and then parents don't, especially in low-income communities," said Harvey. "We definitely want to solve how do we create that shared experience for them both."
Through various partnerships within the local community, counseling services will be offered in order to address various social challenges such as trauma experiences outside of school.
For example, Harvey had one student last year who was homeless but still remained on both the school's basketball team and honor roll.
"That's a lot to carry when you are coming to school every single day and that can be a lot to deal with when you have no one to talk to," he added. "Counseling is something that we want to explore for our young men if they need it."
Miles Ahead is continuing to look for more community partners. The Houston Police Union contributed $6,000 and will educate students through roundtable discussions.
Though early into the program, Campbell-Rhone has found that students now hold each other accountable. Teachers are also able to build more personal relationships because of the smaller class sizes.
"I see it in many ways that the kids are starting flourish because of the fact that they are in the program," she said.
The program's design was based off Harvey's experience as an educator, as he worked in both public schools and non-profit spaces.
His ultimate goal is for this type of program to be replicated across the nation.
"Programs like this are absolutely necessary if we are going to create a better future," said Harvey. "Whatever sub population of students that you identify at your school that are not doing well, there must be something different we can do or something targeted to help support their success."
Sarah Wood can be reached at [email protected].