Northern Illinois University and Indiana University's Bloomington campus recently went test optional, joining more than 1,080 four-year schools that nixed the requirement for standardized testing. In the last year, nearly 60 schools adopted policies that de-emphasize test scores as an admissions factor.
Starting with liberal arts schools in the Northeast as early as the late 1960s, the test optional movement gained steam as a way to increase student diversity. Research shows that underrepresented students, who often have less preparation, score lower on college entrance exams like the SATs and ACTs, putting them at a disadvantage when it comes to admissions.
But do test optional policies work? Are these universities actually enrolling – and graduating – more low-income students and students of color?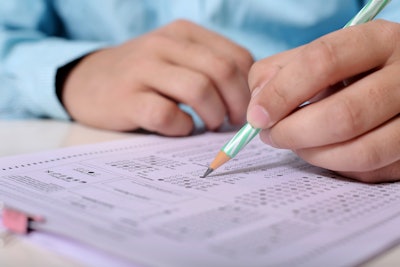 Now that some schools have been employing these policies for decades, there's data to help answer those questions – though higher education leaders continue to debate how conclusive that data is.
If you ask Bob Schaeffer, executive director of FairTest, "You don't [need to] argue about whether test optional works. You can show it works."
Schaeffer and his organization have been tracking the test optional movement since the early 2000s. He described its recent growth as "quite rapid." Originally adopted by mission-driven private liberal arts colleges, an "explosion" of public universities stopped requiring standardized tests in the last five years. The movement has also spread out geographically. Once limited to an enclave of schools in the Northeast, it's since reached the mid-Atlantic states and the Midwest with some outposts on the West Coast.
He thinks this is in part because admissions officers are finding evidence that test optional policies draw more diverse applicants, and they're sharing their successes with each other.
Going Back to the Beginning
The earliest universities to leave mandatory testing behind have made diversity gains. At Bowdoin University, the first school to go test optional in 1969, students of color currently make up over a third of the student body, up from 7.5% in 1988, according to a diversity and inclusion report. Bates University, the second to adopt a test optional policy in 1984, has seen underrepresented minority enrollment go from 7% in 1996 to almost a quarter of fall admits in 2019.
However, those numbers alone aren't convincing, as American universities become more diversity conscious, contributing to an uptick in minority students at most schools across the country.
"Everybody seems to be doing better on most of these fronts because it's a high priority for all of higher ed," said Steve Syverson, now assistant vice chancellor for enrollment management at University of Washington Bothell.
That's why Syverson and his colleagues did a study titled, "Defining Access: How Test Optional Works," comparing 28 test optional schools to their peer institutions.
They found that all but one of the universities in the study received more applications from underrepresented students than in years prior to the policy. And two-thirds of them enrolled higher percentages of minority students than their competitors that continued to require test scores.
Syverson describes test optional policies as one "tool in the arsenal" for making college more accessible.
"We believe that requiring test scores, at least in some cases, artificially truncates the pool of good applicants, people who would be well-served by the college and who would do well," he says. And conversely, "being test optional opens a door for a batch of these students who are poorly represented by their test scores to go ahead and feel confidence applying."
That is, "if you do it right," he adds.
Syverson stressed that there's no "one size fits all" solution for how to deal with testing. Some test optional schools had significant diversity gains while others made less impressive progress – or no progress – in comparison to their peers, because a test optional policy's success has a lot to do with how it's implemented.
For example, he found that most schools admitted applicants who chose not to submit test scores at lower rates, even though non-submitters enrolled at higher rates. In general, schools that advertised their test optional policies and tried to treat submitters and non-submitters equally in the admissions process saw "more successful outcomes," he says.
Moving the Diversity Needle
Still, there are higher education professionals that don't see much evidence that test optional policies are successful.
Dr. Jack Buckley, an American Institutes for Research fellow and a former vice president for research and evaluation at the College Board, co-edited a book titled, Measuring Success: Testing, Grades and the Future of College Admissions.
He argues that there's no compelling, air-tight evidence that suggests test optional policies actually improve campus diversity, even if they bring in more applications. The data he's seen in favor of test optional policies leaves "a lot to be desired," he says, in terms of controlling for "confounding factors" that impact student diversity, like other diversity initiatives schools might be employing. Meanwhile, he thinks it's a "low cost" way for universities to pat themselves on the back – while inflating their average test scores and appearing more selective – when the actual composition of their classes hasn't changed significantly more than they would have otherwise.
"Changing the test score requirement isn't going to change who knows about Bates University and who knows how to apply for it," he says.
Buckley suggests that standardized testing was originally introduced into admissions as a response to elite colleges' lack of diversity, namely their abundance of admits from New England prep schools. It was, he says, "a way of finding people who might be able to succeed, even if they didn't have any traditional connection or pipeline to these institutions."
He cited a recent report by a faculty task force at the University of California system, which supported the claim that standardized test scores can increase diversity. It recommended the system continue to require test scores after a civil rights lawsuit by FairTest and others challenged the practice.
In its report, faculty on the standardized testing task force write that the decision stemmed from "pragmatic concerns about how campuses would evaluate and compare applicants."
The report argues that the UC System considers the test alongside a host of other factors, allowing campuses to "identify students who performed exceptionally well given available opportunities," students that they might have otherwise overlooked.
According to Buckley, this is how standardized testing is supposed to work.
"No responsible test maker, just like no responsible admissions person, should be using a test only to sort people and deny them admissions," Buckley says. "That's not how they're built to be used. A long time ago, [the UC System] figured out how to use tests in a way that adds value to their campus diversity without using them in a way that they weren't designed to be used."
So, do test optional policies really create more diverse student bodies? It's not so clear. It depends whom you ask and what data you're willing to trust in an increasingly varied landscape of higher education institutions embracing test optional policies.
But Syverson emphasized that the test optional movement isn't just about numbers – though he personally thinks those numbers are complicated but telling. It's also about sending a message to students, underrepresented and otherwise, about what their universities value most in them.
As an admissions team, "do you want kids who are really hung up on test scores as the way they represent themselves?" he asked. "Or do you want ones with some deeper sense of self and how they fit into the world?"
This article originally appeared in the March 5 edition of Diverse.