The Virginia Military Institute (VMI) is relocating a statue of Confederate Gen. "Stonewall" Jackson from its campus to another VMI property, the Virginia Museum of the Civil War.
The statue and pedestal were recently removed from the front of campus student barracks and will be placed in the Civil War museum in the coming months for an expected early fall 2021 completion, said Col. Bill Wyatt, director of communications and marketing at VMI.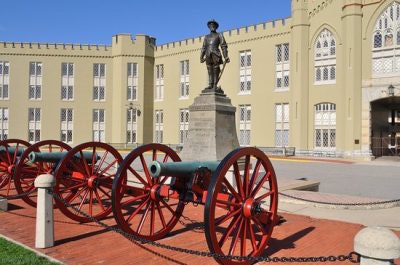 VMI's Board of Visitors voted in October to relocate the "Stonewall" Jackson statue to the Civil War museum – approximately 80 miles north of VMI – located in New Market, Virginia.
Two members of the board resigned before the vote with no explanation. In the wake of allegations of racism, the school appointed Retired Army Maj. Gen. Cedric T. Wins to serve as interim superintendent. It is the first time an African American has led the 181-year-old institution.
The statue – sculpted by Moses Ezekiel, class of 1866, and donated to the school in 1912 – has stood for more than 100 years. It depicts the Confederate general, known for his 1862 Shenandoah Valley campaign, Wyatt said.
Jackson could be said to have had two personas, Wyatt said.
"You have Major Thomas Jackson, who was a professor at VMI. And then you have, Gen. 'Stonewall' Jackson, who became famous for his exploits during the Civil War," Wyatt said. "Gen. 'Stonewall' Jackson really didn't have much to do with VMI. Major Thomas Jackson was a physics professor here for a few years.
"We think it's more appropriate to take that statue of Gen. "Stonewall" Jackson and put it into the context of a Civil War battlefield and museum, where people can understand how he affected the war."
The Jackson statue's relocation comes during a year rife with racial justice protests and the removal of several other Confederate monuments, including one of Jackson from Richmond's Monument Avenue on July 1.
"Jackson was a war hero. The war he fought was a rebellion against the army of the United States of America, on behalf of the right of people to own enslaved people," said Dr. James Grossman, executive director of the American Historical Association. "I think it's important that the word "treason" be there, and that it's not a matter of the Union army, it's the army of the United States of America.
"People talk about the Union army and the Confederate army as if they're equivalent. They're not equivalent."
Reactions to the statue's relocation have been mixed.
"In the end, VMI doesn't define itself by the statue," Wyatt said.