Dr. Nadia Abuelezam grew up in an Arab immigrant family as the daughter of two Palestinian refugees. Her mother spent her childhood in Kuwait while her father was in a Lebanese refugee camp. As a first-generation Arab American college student majoring in mathematical biology, she wasn't interested in "math for math's sake." She wanted to do science that would directly impact her community.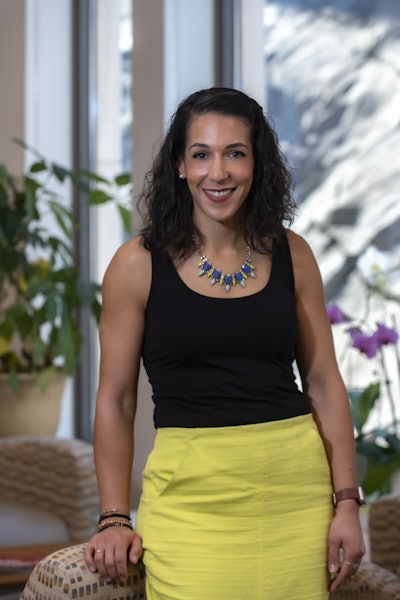 Abuelezam went on to do her doctoral work in epidemiology at Harvard, making mathematical models of how HIV spreads in South Africa, which took her to South Africa and Uganda. While she deeply valued her research, she felt pulled to study health disparities for Arab Americans. 
"I always had a sense that I wanted to do work that would help my community and not only help the community but help me better understand my community," she says. 
At Harvard, colleagues didn't encourage her to pursue her interest in Arab American health. The topic didn't feel as pressing to them as HIV research, which she understood. But she also felt like ethnic and racial health disparities were underappreciated as a field of study, precisely because they can be so personal to the scientists themselves. 
"The people working on health disparities have a reason to work on health disparities," she says. "Either they're trying to help their communities or they're trying to do work that's personally meaningful, and I do think there's a bit of stigma around that in the field of public health. When we think about the majority of scholars who are doing health disparities work, I think you find that they are people of color, and that produces this really ugly cycle of devaluing work by communities of color for communities of color."
"It's something I've been thinking a lot about," she added. "And I've been trying to break that cycle."
Now, as an assistant professor of nursing at Boston College, Abuelezam's research focuses on health disparities in the Arab American community. She also runs a collaborative research group of 15 young scholars across the country interested in Arab American health and serves as the co-chair of the diversity and inclusion committee for the Society for Epidemiological Research.
Abuelezam is treading new ground. Scholarship on Arab Americans is essentially "null" in the field of public health, says Dr. Christopher Lee, associate dean for research and a professor in Boston College's school of nursing. He described her as a "rock star" scientist as well as "an incredibly giving and compassionate advocate and ally for anti-racism and health equity in our school."
In addition to her work with her community, Abuelezam is also doing interdisciplinary research on how racism can be a cause of health disparities and how that's taught in undergraduate public health education. The research is in collaboration with Dr. Andrés Castro Samayoa, an assistant professor of education.
On top of her research, and as the country faces a global pandemic, Abuelezam has been frequently called on by media outlets like the Wall Street Journal and the Boston Globe for her knowledge and training.
"When COVID first hit in early spring, my life changed quite dramatically," she says. "I was suddenly being asked to speak on the radio, on television, in newspaper articles about my expertise in infectious disease epidemiology. Really, I shifted a lot of my time in the spring and the summer to public-facing communication and really trying to learn and teach myself how to convey these complex, scientific details to a large, public audience."
She also continues to teach her students. She sees them taking a renewed interest in public health disparities during the pandemic, and she finds that watching them learn is one of the most rewarding parts of her job. 
"I really enjoy seeing the way in which students' thinking changes," she says, "seeing the ways in which their view of the world, their view of public health changes."  
Nadia Abuelezam

Title: Assistant Professor, Connell School of Nursing, Boston College

Age: 33

Education: B.S., mathematical biology, Harvey Mudd College; Ph.D., epidemiology, Harvard University; Postdoc, epidemiology, Harvard University.

Mentors: Dr. George Seage, Harvard University; Dr. Sandro Galea, Boston University; Dr. Abdul El-Sayed; Dr. Andrés Castro Samayoa, Boston College.

Words of wisdom/advice for new faculty members: "Writing every day. For me, I think it's really transformed my professional identity to be able to at least touch my research in a way every day. As academics, we're often pulled in many different directions — whether that's teaching or service or reviewing or whatever it is — I think there are many opportunities to drift away from our work. … Advancing our work every day is one way that I have felt a greater connection, not only with my work, but my scholarly identity."
This article originally appeared in the January 21, 2021 edition of Diverse and is one in a series of profiles about this year's 2021 Emerging Scholars. Read them all here.