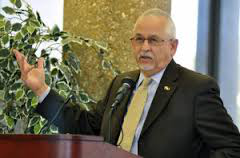 Southern University System board of supervisors voted Friday not to renew Baton Rouge chancellor James Llorens' contract when it expires June 30.
Llorens was successful in making numerous improvements at the Louisiana institution.  Under his leadership, enrollment on the campus increased, and most notably freshman enrollment rose from 743 in fall of 2012 to 1,115 in 2013.
Southern-Baton Rouge (SUBR) is the flagship school in the five-campus Southern University System, the only historically Black university system in the country.
Llorens took the helm amid serious financial and academic setbacks in July 2011. The following year, the Southern Association of Colleges and Schools placed Southern-Baton Rouge on probation for not providing adequate records on its compliance with academic standards. But Llorens' staff produced the required data and SACS lifted the probation in June 2013.
System president Ron Mason told Diverse he favored keeping Llorens' at SUBR ― with conditions. "My recommendation was to extend his contract for one year under certain conditions and by July 1 to make recommendations to the board to address those issues."
Mason said the conditions involved developing a plan to improve operations on the campus and to have an assessment from the system about how the improvements were working.
"The chancellor did not agree to those conditions. When he did not agree, the board rejected my recommendations," Mason said, adding, "My job is to recommend and the board's job is to decide. They decided." The vote was 9-6 against renewing Llorens' current three-year contract which originally paid $270,000 per year.
Llorens declined Diverse's request for comment, but he told local media Mason's terms would have given the system office more involvement in the day-to-day operations of the Baton Rouge campus.
Asked for his assessment of Llorens' tenure, Mason said, "I think he's well-liked and he's done a great job enhancing the energy at the institution, but the campus itself is a real challenge because of budget cuts and other things, and the thought was that we needed to help move the campus forward which was a reason for the conditions."
SU Board of Supervisors Chairwoman Bridget A. Dinvaut  issued a brief written statement of gratitude to Llorens after the meeting. "The Board thanks Dr. Llorens for his service and wishes him well. We will soon make decisions on the leadership direction for our main campus and continue the efforts of making Southern University great."
When he was appointed, Llorens was serving as Assistant Chief Administrative Officer to Mayor-President Melvin Holden of the City of Baton Rouge and Parish of East Baton Rouge. He had previously been a department chair at SUBR. He is a graduate of Loyola University in New Orleans and has a Ph.D. in political science from Louisiana State University.
Mason said that to his knowledge Llorens would not be asked to leave before the end of his contract.
"He is the chancellor through June 30, and there's no reason he shouldn't serve it out," Mason said, adding that the institution must move forward. "Now we move to the next step, which is to look for a chancellor for the Baton Rouge campus."