RIVERSIDE, Calif.
U.S. Undersecretary of Education James Kvaal made an appearance at the Education Writers Association's 2023 Higher Education Seminar for a moderated discussion and to answer questions from the assembled writers. Although Kvaal resisted giving many details of the department's planned future responses to the twin higher ed Supreme Court decisions of last June—gutting race-conscious admissions practices and ending President Joe Biden's student loan forgiveness program—he touted the administration's efforts thus far and promised that it was doing everything that it could.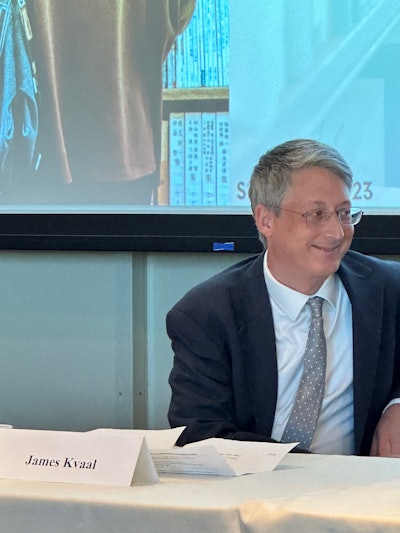 Much of the discussion focused on the Department of Education's (ED) reactions to what moderator Adolfo Guzman-Lopez of LAist called the "two punches" of Supreme Court decisions on affirmative action and student debt relief. Kvaal characterized the race-conscious admissions decision as "clearly a sharp change in direction," and said that ED was taking an all hands-on deck approach to helping colleges and universities figure out how they can maintain campus diversity. He noted that the department had released guidance several weeks ago emphasizing that colleges do not have to ignore race in admissions decisions and that the goal of diversity on campus was still legal. The guidance also suggested that schools could help to expand the pipeline of diverse applicants through outreach, recruitment, and pathway programs in partnership with local schools or organizations, which can use race as a factor as long as they aren't providing an admissions preference.
Kvaal said that universities had appreciated the clarity of the guidance but said that time would be required for institutions to digest the documents completely and to consider their full effects. A policy document will follow. In the meantime, Kvaal said that it was important that colleges not overreact to the Supreme Court ruling and that they look at everything possible that's permissible. However, he suggested that there was no silver bullet to maintaining current levels of minoritized students on campus.
"There's no single easy thing that we can do," said Kvaal.
Kvaal further expressed concern about the message that minoritized students and their families might take away from the ruling—that higher education is not for them. When asked what message he had for young Black and Latinx students, he echoed the words of Secretary of Education Dr. Miguel A. Cardona on the day of the court's ruling: "Our country needs you, you belong on every college campus, and don't give up."
Kvaal also discussed the student loan relief program, which would have reduced debts by $10,000 for many students, and by $20,000 for those who received Pell grants. In the wake of the Supreme Court's decision throwing that plan out, Kvaal characterized the student loan system as "broken" and the department as doing everything that it could to make the programs work.
The undersecretary touted the Biden administration's progress in releasing debt through the public service loan forgiveness program, which had previously been mismanaged, preventing borrowers from receiving relief to which they had been entitled. The Biden administration has now approved over $45 billion in forgiveness to more than 660,000 borrowers. He also praised the newly introduced Saving on a Valuable Education (SAVE) plans, a form of income-driven repayment plan that lowers payments for many borrowers to $0 and which prevents balances from rising due to interest. The department announced last week that over four million student borrowers had enrolled in SAVE plans.
Kvaal also discussed the return to repayment of student loans after a pandemic-related paused of 3.5 years. He described it as a massive challenge and praised the "on-ramp" that the government had created, forestalling the worst consequences of missed, late, or partial payments until September 30, 2024.
The undersecretary rejected strongly the idea that debt relief was unfair because some borrowers had managed to pay off their loans by themselves or had not taken out loans at all. He said that student debt was fundamentally different from ten to twenty years ago, and was a problem for families, communities, and the entire economy. Kvaal argued that the government didn't need to change anyone's mind about it because it was a problem that so many students and parents had faced personally.
The Biden administration is currently looking into whether it can accomplish some measure of student debt relief through the authority of the Higher Education Act, which gives the Secretary of Education the right to "compromise, waive, or release any right, title, claim, lien, or demand" relating to student debt without requiring a specific cause. Kvaal dodged questions about whether the future relief would be smaller or occur before the election, but said that the president has asked the department "to move as quickly as possible with as many people as possible." He noted that the Higher Education Act requires the administration to use the rule-making process, which requires multiple public hearings among stakeholders. ED began the process for nominating stakeholders last week, and the first hearing will take place in October.
Jon Edelman can be reached at JEdelman@DiverseEducation.com