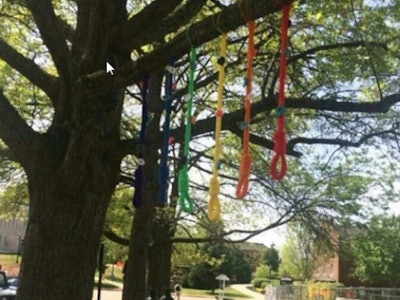 A university in Tennessee is investigating after six rainbow-colored nooses were found Monday hanging from a tree on campus.
Officials at Austin Peay State University in Clarksville, Tenn., said the nooses — red, orange, yellow, green, blue and black — were arranged in a rainbow on a tree outside of a fine-arts building.
"This incident is deeply disturbing and is hurtful to our University community," Austin Peay President Alisa White said in a statement. "Regardless of the intent, the display has no place on our campus. I am saddened, and I am sorry for the hurt and offense this has caused and want our students, faculty, and staff to know that it will not be tolerated."
Read the full story via The Washington Post.