Students who want to go to college but don't perform well on standardized tests – or just hate taking them – might be delighted by a new policy at an Indiana school.
Ball State University in Muncie has become the first public four-year university in the Hoosier State to make the SAT and ACT optional for admission.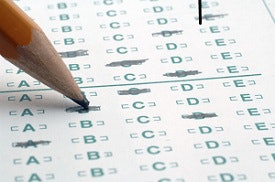 The new policy will take effect beginning with the freshman class starting in fall 2019. The change has been in the works since spring 2017.
Just because a student may not score well on standardized tests doesn't mean the student can not be successful in college or in life, Ball State administrators point out. They say the policy change gives them more flexibility to attract more students whose test scores may have disqualified them for admission but who had strong grades and deserve the opportunity to perform well in college and beyond.
"Our research shows high school grade point averages are the strongest predictor for student success," said Ball State president Geoffrey S. Mearns. "This change will create opportunities for even more high-achieving students to take advantage of our distinctive academic programs, our unique immersive learning experiences, and our supportive campus community. The new policy also aligns with our Beneficence Pledge to maintain high standards of scholarship and excellence."
Last year, Ball State welcomed the second-largest freshman class in its history – in an academic year that saw the highest enrollment in the 100-year-old school's history with 22,513 students. That class of 4,002 freshmen – just three shy of tying the record – also was the most academically qualified and most diverse freshman class in its history, university officials said.
"We want to build on this success," said Dr. Kay Bales, Vice President for Student Affairs and Enrollment Services. "By becoming test-optional, we will become more attractive and accessible to students across the entire state of Indiana."
Ball State isn't alone in re-examining admission criteria. Research on some public colleges across the nation that have become test-optional indicates that they have experienced double-digit increases in applications, higher graduation rates and more diversity within their student populations.
"If students feel their SAT or ACT test scores don't represent their academic abilities and decide not to submit them, we'll holistically consider their academic work and difficulty, extracurricular participation and any applicant statements or recommendations," said Bales. "Our goal at Ball State is to lead students to have successful careers and meaningful lives. This starts by making college education a possibility for more qualified students."