Marian University has announced it will collaborate with Saint Joseph's College to open a two-year college in Indianapolis. The Boards of Trustees at both institutions signed a memorandum of understanding (MOU) to formalize the partnership.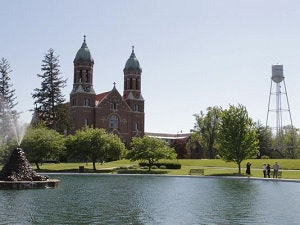 Under the MOU, the new college, scheduled to open in July 2019, will be called Saint Joseph's College of Marian University – Indianapolis. the campus will be located adjacent to the Marian campus in Indianapolis, according to Building Indiana.
"This is a positive step forward for the future of Saint Joseph's College," said Saint Joseph's College rector Father Barry Fischer. "Saint Joseph's College continues to live, in both name and mission, and we are excited about the possibilities that will be presented through this collaboration."
Under the MOU, Saint Joseph's will fund $1.5 million in scholarships, paid over 10 years, to students who will attend the new college. The scholarships will mainly be established from donations already made to Saint Joseph's to support deserving students, Building Indiana reported.
The new college will offer three undergraduate programs: liberal arts, business and information technology and has a goal of enrolling 75-125 students in its first year.
Marian University's faculty will work closely with Indiana employers to make sure that students attending the new college can recognize connections between the material taught in courses and in their future jobs. The new college will also allow students to have flexible schedules, giving them the opportunity to work if desired.