Alabama State University (ASU) will host two events commemorating Black soldiers from Montgomery and ASU who fought in World War I (WWI) and to honor the 100th anniversary of the Allied victory of the war on Friday, Nov. 9.
The first ceremony is scheduled for 10 a.m. at Montgomery's Old Oakwood Cemetery where the graves of the town's Black World War I veterans who served in the 92nd Division and were members of the 366th Infantry of the American Expeditionary Forces, according to college officials.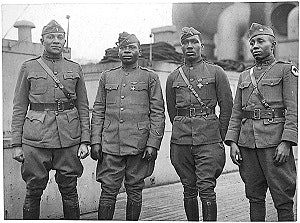 The second ceremony will begin at 3 p.m. near ASU facilities building's 1 and 2 to unveil a Historic Marker honoring both the university and Montgomery's Black WWI soldiers two days before the 100th anniversary of the end of the war.
"This World War I 100th anniversary is a time to honor and remember the many Black soldiers that fought in the Great War who were both residents of Montgomery and students at Alabama State University, as well as all of the men and women of all races who have fought for, and in some cases given their lives, in defense of these United States," said Dr. Derryn Moten, chair of ASU's department of history and political science, and organizer of the commemoration.
Both events are free and open to the public.