Delaware State University (DSU) has announced it will buy 10 new Vulcanair V1.0 single-engine airplanes for its department of aviation's flight training program. The university will purchase at least one more airplane a year for a decade to accommodate students in the professional pilot major.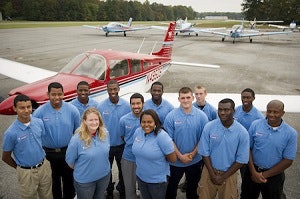 "These aircraft will serve as the workhorses of our fleet and will allow our students to train on the latest all glass avionics' cockpit technology, familiar to and used by airlines and in corporate aviation," the university said in a joint news release with Ameravia Inc., Vulcanair's U.S. distributor. "This will ultimately better prepare our students for success as they enter the aviation industry as a professional pilot."
DSU's Board of Trustees will invest $3.5 million into the flight training program over the course of eight years.
Currently, the pilot degree program at DSU operates a fleet of Piper single- and twin-engine airplanes, according to AOPA.
Students in the program graduate with a multi-engine rating, a flight instructor certificate, a commercial pilot certificate and a bachelor's degree. Graduates of the program are eligible to apply for air traffic control positions or work with regional and major airlines, for airport administration or corporate aviation, AOPA reported.