Late Wednesday night, a gunman shot and killed a dozen people at random in a Southern California country-music bar, including a sheriff's deputy who tried to confront the gunman, authorities said.
The Borderline Bar & Grill is a popular hangout spot for students attending California Lutheran University and Pepperdine University, which is not far from the campuses.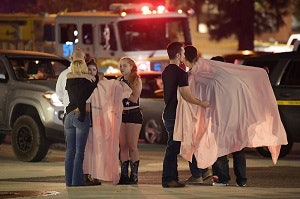 Located in Thousand Oaks, California it has a weekly "College Country Night". Witnesses told The Washington Post that after the first shot was fired, people were line dancing on the dance floor.
The gunman, later identified as Ian David Long, a retired Marine, was found dead at the scene after committing suicide. The 28-year-old, reportedly wore a black sweater and had a .45 caliber Glock handgun and a smoke bomb in his possession. Long first shot the security guard standing outside, then shot other employees inside the bar before using the smoke bomb and beginning fire on bar goers, The Washington Post reported.
Police contemplated whether or not Long suffered from PTSD, but concluded that mental health experts had cleared him from the mental illness.
"It was sheer panic," said Teylor Whittler, 19, who was inside the bar at the time of the shooting. "Everyone ran and dropped as fast as they could."