A couple days after Virginia Lt. Gov. Justin Fairfax denied a sexual assault allegation from 2004 that emerged on a conservative website, his accuser came forward, publicly identifying herself and describing the encounter in detail.
"What began as consensual kissing quickly turned into a sexual assault," said Fairfax's accuser, Dr. Vanessa Tyson, a fellow at Stanford University and associate professor at Scripps College.
Tyson alleged that Fairfax, a Democrat, forced her to perform oral sex during the July 2004 encounter, which occurred during the Democratic National Convention in Boston, according to The Washington Post.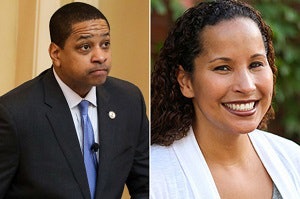 Later that day, Fairfax responded to Tyson's statement denying the allegation and her description of the encounter.
"Reading Dr. Tyson's account is painful. I have never done anything like what she suggests," Fairfax said in a statement. "Any review of the circumstances would support my account, because it is the truth. I take this situation very seriously and continue to believe Dr. Tyson should be treated with respect. But, I cannot agree to a description of events that simply is not true."
The allegation follows recent calls for Gov. Ralph Northam to resign over a photo of two individuals – one in Blackface and one in a Ku Klu Klan outfit – that appeared on his 1984 yearbook page, and he admitting that he darkened his face for a dance competition in the 1980s.
Virginia Attorney General Mark Herring also made a statement acknowledging that he dressed in Blackface while in college.
Fairfax, who would step in as governor if Northam resigns, said the encounter with Tyson was consensual, that the allegation is false and threatened legal action against Tyson.
In her recent public statement, Tyson said she chose to come forward after hearing his response.
"My only motive in speaking now is to refute Mr. Fairfax's falsehoods and aspersions of my character, and to provide what I believe is important information for Virginians to have as they make critical decisions that involve Mr. Fairfax," Tyson said.