Low-income students around the country are enrolling in colleges at increasing rates, and 39 percent of undergraduates were at or below 130 percent of the 2016 federal poverty line, according to the National Postsecondary Student Aid Study.
Universities in Kentucky and Southern Indiana have opened on-campus food pantries and begun food rescue programs in attempts to meet students' basic needs. Students at the University of Louisville recently opened a food pantry on the campus, adding to the list of similar programs at local colleges like Bellarmine University, Spalding University and IU-Southeast.
Over 640 colleges and universities around the country operate food pantries on campus, according to data from the College and University Food Bank Alliance.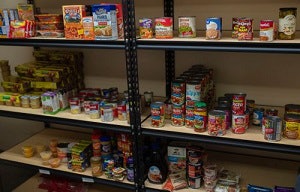 Rebecca Broda, a student at Bellarmine University, said she got the idea to open a food pantry her freshman year after attending an alternative spring break program in Charleston, South Carolina.
Broda and a committee of fellow students organized a partnership with Dare to Care Food Bank last year to stock a food pantry in an administrative wing of the Centro campus center, according to the Courier Journal.
"I know a lot of students on this campus that are my friends and co-workers that do not receive adequate nutrition due to running out of meal plans or they simply don't have the money to eat," Broda said. "I know for a lot of students it's tuition or food, and they pay for tuition."
Since the pantry's opening in November, the Bellarmine pantry has served 120 individuals, said Natasha Begin, assistant dean of students and a supervisor of the program.
"A significant amount of our students are Pell (Grant) eligible, the highest federal financial aid," Begin said. "… Sometimes we have commuter students holding down two to three part-time jobs to afford rent and utilities. Some are helping with their parents' bills. Grants can cover tuition and the costs to go here, but they don't cover additional expenses that come with just living life."
Begin noted that Bellarmine and other institutions across the country have more work to do to support low-income students.
"If we want to see them succeed, we need to put more support in place to help them do that," she said.