James Madison University has unveiled the new name for a student dormitory in honor of Paul Jennings, an enslaved African-American servant to Founding Father James Madison and his wife, Dolley.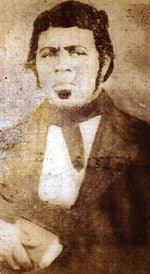 Paul Jennings Hall is set to open in the fall on the Harrisonburg campus. It houses 500 beds.
Jennings, a witness to the evacuation of the White House during the War of 1812, wrote a memoir A Colored Man's Reminiscences of James Madison decades later of his time in Washington, D.C. during the Madison presidency. The memoir challenged claims that Dolley saved a portrait of George Washington from the 1814 White House fire, according to The Washington Post.
"Naming what will be a vibrant hub of student activity after Paul Jennings allows us to provide important and inclusive context to the complex story of James Madison — known as 'the Father of the Constitution' — and the central paradox of the founding of our republican democracy," university president Dr. Jonathan R. Alger said in a statement. "As we continue to recognize Madison's pivotal role in the founding of our country, . . . we must also confront as an institution that Madison profited from the ownership of slaves.
"Paul Jennings was an important historical figure in his own right, and overcame hardship to leave an impressive legacy," Alger added.