Manhattanville College has announced plans to support The College of New Rochelle (CNR) students in response to a CNR statement that the school is "unlikely" to stay open by the end of the summer.
"Manhattanville offers The College of New Rochelle students a smooth and easy transition to a nearby iconic Westchester college," said Manhattanville president Dr. Michael Geisler. "CNR students will find similar values and wonderful resources at Manhattanville and we will do our utmost to ensure a rapid, seamless integration of them into our welcoming community."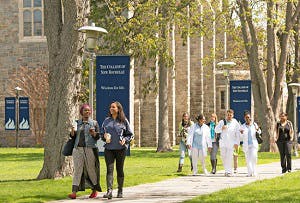 Manhattanville will offer transfer scholarships for CNR students and provide housing for the fall 2019 and spring 2020 semesters, according to a Manhattanville release.
The school will also honor the New Rochelle student's current semester costs and have ensured that their out of pocket expenses will be equal to or less than what they paid in the spring 2019 semester at CNR.
"Offering to match cost is a way of helping students make a decision based upon which program is best for their future. Making a transition as a college student can be fraught with challenges, and we have put together a program that will make transferring simple for CNR students and their families," said Manhattanville vice president for enrollment management Peter Burns.