Air Force Secretary Heather Wilson said that she will resign from her post, effective May 31 stating that it should provide "sufficient time" for a "smooth transition and ensure effective advocacy during upcoming Congressional hearings" on the Air Force's budget.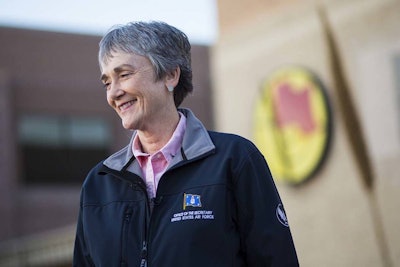 Wilson said she will leave her current job to become the next president of the University of Texas at El Paso, pending approval by the University of Texas Board of Regents.
"It has been a privilege to serve alongside our Airmen over the past two years and I am proud of the progress that we have made restoring our nation's defense. We have improved the readiness of the force; we have cut years out of acquisition schedules and gotten better prices through competition; we have repealed hundreds of superfluous regulations; and we have strengthened our ability to deter and dominate in space," Wilson said in a letter to President Donald J. Trump. "I very much appreciate the opportunity to have served. I remain a strong advocate for our nation's defense and an Airman for life."
Before joining the Trump administration, Wilson served as president of the South Dakota School of Mines and Technology. She also was a Rhodes Scholar and a former Air Force officer, according to CNN.
President Trump took to Twitter to thank Wilson for her time as Air Force Secretary stating: "Congratulations to Heather Wilson, who is the sole finalist to become the next President of University of Texas at El Paso effective September 1, 2019. Heather has done an absolutely fantastic job … as Secretary of the Air Force, and I know she will be equally great in the very important world of higher education. A strong thank you to Heather for her service."