The University of South Florida (USF) and Benedict College have been named the recipients of the 2019 American Council on Education (ACE)/Fidelity Investments Award for Institutional Transformation, ACE recently announced.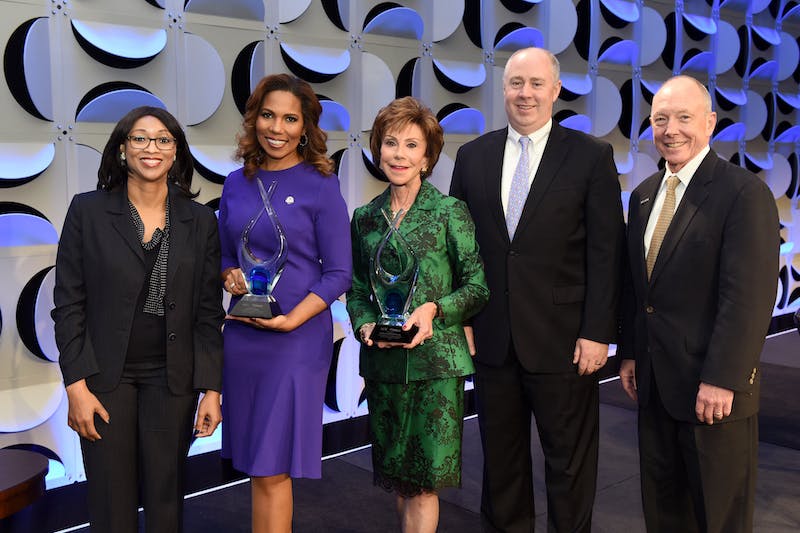 (L-R): Bathsheba Philpott, vice president of advancement at ACE; Dr. Roslyn Clark Artis, president of Benedict College; Dr. Judy Genshaft, president of the University of South Florida; Patrick Vaughan, senior vice president, managing director, and higher education practice leader at Fidelity Investments; and ACE president Dr. Ted Mitchell.
The awards were presented to USF president Dr. Judy Genshaft and Benedict president Dr. Roslyn Clark Artis on behalf of the schools at ACE's recent 101st Annual Meeting. The award was established to honor institutions that have responded to challenges in higher education in new and creative ways and accomplished significant changes in a brief period, according to an ACE release.
Each award included a $10,000 prize.
"Through strategic thinking and measured efforts, University of South Florida and Benedict College have both transformed their campuses to better prioritize student success, scholarly achievement, and innovation," said ACE president Dr. Ted Mitchell. "Thank you to Fidelity Investments for its generous support, which allows us each year to recognize colleges and universities that are meeting challenges head-on."
In 2010, USF began a student success movement to increase the performance of all of its students. By utilizing data and analytics to increase performance, the university raised its six-year graduation rate from 51 to 73 percent from 2010 to 2018. This also removed USF's achievement gaps by race, ethnicity and income level. The institution received national recognition by The Education Trust and the Third Way organizations for Hispanic, Black and Pell-eligible student success.
After Artis was appointed president of Benedict in June 2017, the historically Black college began analyzing how they can fix the private institution's issues of decreases in enrollment, poor retention and financial instability by establishing a five-year strategic plan for sustainability and growth. Benedict administrators first collected feedback from stakeholders and then disregarded long-standing open enrollment, enhanced career development opportunities, decreased tuition, restructured the curriculum to focus on innovation, reduced student debt and increased first-year student support services.
By the summer of 2018, applications to Benedict increased by 20 percent and admissions by 14 percent. In addition, Benedict welcomed over 750 new students in fall 2018 – the largest class in five years.
"Together with ACE, Fidelity is honored to celebrate higher education institutions helping students succeed on campus and in life," said Patrick Vaughan, senior vice president, managing director, and higher education practice leader at Fidelity Investments. "These schools have proven that a clear vision of serving students can put an institution on a path to sustained success."