Franciscan University of Steubenville president Rev. Sean Sheridan has announced that the institution has accepted his resignation amid months of public controversy.
"As you can imagine, this was a difficult letter for me to write and deliver to you as I have great affection for the entire Franciscan Family," Sheridan wrote in an email to students.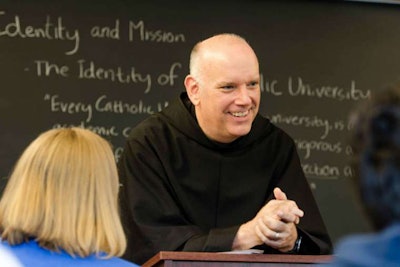 Sheridan recently received criticism after news site Church Militant reported the school's initial support for Dr. Stephen Lewis, an English professor at the school who assigned a pornographic book in a graduate course during spring 2018.
The university responded to those claims by initially defending the assignment, stating that literature of this sort helps prepare students to cope with their faith by considering several sides of an issue, according to the Church Militant.
In more recent news, Sheridan was criticized for attempting to silence faculty in the hopes of avoiding any future media blazes. New academic freedom policies sent to faculty in March stated, "Anonymous communication of facts or opinions about the University to media outlets or other external organizations is unprofessional and unethical, and may be grounds for disciplinary action."
Sheridan will continue working at the university until the end of the academic year and then accept a new assignment from the Franciscan TOR Province.
"Franciscan University is a special and immensely spiritual place, and it was a blessing to serve in our mission to educate, evangelize, and send forth joyful disciples of Jesus Christ. This is and always will be a University dedicated to providing an education that is rigorous and demanding, vibrant and truly orthodox with an unwavering commitment to Catholic faith and tradition," Sheridan said. "The sincerity and seriousness Franciscan students have for the faith will continue to inspire me, and I am especially thankful for the ministry and witness of the friars. In my years in higher education, as student, faculty member, and researcher of Ex corde Ecclesiae and the Code of Canon Law, I have not encountered members of a university community so committed to pursuing their beliefs. I leave Franciscan a better teacher and catechist and appreciative of the time to grow in this area of my ministry."