Pine Manor College was recently selected as a "First Forward" institution by NASPA – Student Affairs Administrators in Higher Education's Center for First-generation Student Success and The Suder Foundation.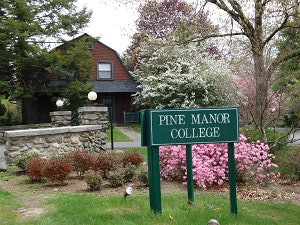 The college's "First Forward" designation recognizes its commitment to improving the experiences and outcomes of first-generation students. As part of the inaugural cohort of First Forward Institutions, Pine Manor College will receive professional development, community-building experiences and an early exploration of the Center for First-generation Student Success' research and resources, college officials said.
"The center is so pleased to welcome Pine Manor College into our inaugural cohort of First Forward institutions," said Dr. Sarah E. Whitley, senior director of the Center for First-generation Student Success. "Through the application process, it was evident that Pine Manor College is not only taking steps to serve first-generation students but has made a long-term commitment and employ strategies for significant scaling and important advances in the future."
More than 85 percent of Pine Manor College's students identify as first-generation. To support these students, the college has eliminated standardized testing, it offers financial aid counseling in both English and Spanish and the college partners with college access and success programs to assist students.
Among other supports, professional tutoring, workshops and pop-up programming, year-round counseling, professional development and an assigned student success coach and academic advisor are all available to students as well.