Mildred García, president of the American Association of State Colleges and Universities, told graduates at Ithaca College's 124th Commencement ceremony that they have a profound responsibility to use the achievement of their degree to serve as a beacon of hope and opportunity for others. García delivered the main address to some 1,500 graduates at the ceremony on Sunday, May 19.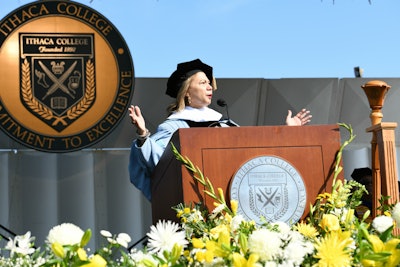 "Today we celebrate far more than a degree achieved; we honor a dream, your dream, realized," García said. "I am proud that each of you now joins me and President Collado in being the change we want to see in the world, so that the next generation of diverse students encounters less obstacles and more opportunities, less discrimination and more equal pay, less broken hopes and more broken glass ceilings."
Ithaca College President Dr. Shirley M. Collado awarded García an honorary Doctor of Letters degree, which García dedicated to her parents. She described their journey from Puerto Rico to Brooklyn, noting that they had only an eighth-grade education not from a lack of intelligence but from a lack of equitable access to quality education.
García said her parents coined a phrase that has become the through line for her entire professional career, reciting it first in Spanish and then in English: "The only inheritance a poor family leaves its children is a good education."
"Together, my parents wielded the power of that profound truth to light a fire under all seven of their children. My parents understood that education, and only education, could propel us beyond the factory walls, beyond the housing projects we moved into, and beyond what we could even imagine."