Dr. Selwyn Vickers, senior vice president and dean of the University of Alabama at Birmingham School of Medicine, has been named the 2019 Dr. James T. Black Award recipient by 100 Black Men of America.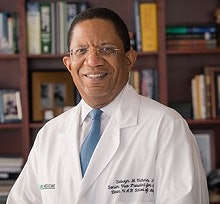 Vickers recently accepted the national award, given annually to one physician, at The Chairman's Awards Luncheon in Las Vegas.
"It is an honor and a great opportunity to mentor and serve the community," he said. "I want to thank the 100 for this recognition and thank everyone at UAB and in the School of Medicine. This acknowledgment is a reflection of the talents and abilities of our people — our physicians, researchers and students, and it further reinforces that Birmingham is a place for the nation's best talent to live and thrive."
The Alabama native, born in Demopolis and raised in Tuscaloosa and Huntsville, learned the value of a mentor and community servant as a teenager. He was 15 when his uncle, Dr. Leroy Vickers, became the first physician to graduate from Tuscaloosa's Stillman College in the early 1970s.
He was inspired by seeing his uncle care for the sick, and it motivated him to seek a career in medicine, where he has become a world-renowned surgeon, pancreatic cancer researcher and pioneer in health disparities research.
Vickers currently leads the research collaborative Center for Healthy African American Men through Partnerships, a first-of-its-kind consortium of academic centers and community organizations that develops, implements and evaluates interventions to improve African-American men's health through research, outreach and training.
He was named dean of UAB's School of Medicine in August 2013 after leading the University of Minnesota Medical School's Department of Surgery, and had served on UAB faculty from 1994 to 2006.