Marquette University plans to boost its Race, Ethnic and Indigenous Studies (REIS) program by onboarding nine new faculty members in what's called a cluster hire.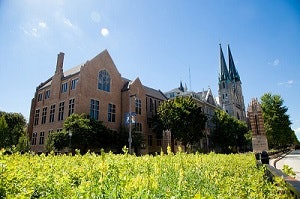 A cluster hire recruits multiple scholars based on interdisciplinary research across areas they have in common. This will be the university's third cluster hire to benefit REIS, a part of the Klingler College of Arts and Sciences.
The program includes interdisciplinary opportunities in Africana Studies, Arab and Muslim American Studies, LatinX Studies, Literatures of Diverse Cultures and Culture, Health and Illness.
Marquette's new hires will focus on diversity while spanning a variety of departments, including economics, philosophy, psychology, anthropology and theology.
"Marquette University continues its commitment to diversity, equity and inclusive excellence by offering diverse areas of study along with faculty whose backgrounds support it," said acting provost Dr. Kimo Ah Yun. "It's critical for Marquette to develop the best possible community of teachers and scholars in the areas represented by REIS, and the cluster hire will build upon what we are already doing in this area."