Howard University students dispute the university's claims that students are organizing against the institution solely based on scholarship qualifications, according to a story by WAMU.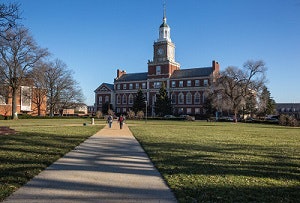 Students say administrators have ignored their needs for mental health support after sexual assault and other incidents.
Some of the latest responses from students come after the university announced it would be investigating threatening tweets against the campus linked to recent discrepancies over scholarships and financial aid.
But another aspect of the story has been unfolding on social media daily since July 17 with the hashtag #HUForgot.
"#HUForgot its pledge to combat sexual assault when it denied students who fell victim to sexual assault the ability to appeal the loss of their scholarships," HearUsHU posted on Twitter.
Students say problems linked to mental health issues and sexual assault spurred them to take time off or caused them to perform poorly in school.
"This is really hard to say but I lost my scholarship after my GPA dropped second semester. I was self-harming and attempted suicide twice within two months and therefore was hospitalized," another person posted to Twitter this week.
Another's post added to a growing chorus of complaints against a school dean: "She literally said, 'Sounds like you're going to have to appeal your scholarships. Do you have a therapist?"