West Virginia University's (WVU) ban on electronic cigarettes and vaping products went into effect Thursday.
Last February, the WVU Board of Governors approved the ban that will also apply to the school's properties in Morgantown, Beckley and Keyser. The new policy amended WVU's existing tobacco ban on campus.
Now, electric cigarettes and vaping products would only be allowed in designated smoking areas at large-scale athletic events, according to WVNews.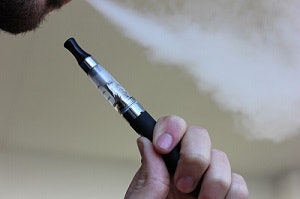 In terms of consequences, students who violate the policy would be subject to conduct proceedings and sanctions. On the other hand, disciplinary actions would occur with faculty and staff members found in violation.
Additionally, visitors would be required to leave campus.
In addition to the ban, the university hopes to promote the negative effects of the products in order to improve the well-being of students, faculty and staff, according to WVNews.
"We don't look at this as a punitive culture kind of thing," WVU state and local specialist Rocco Fucillo said in a talk show appearance. "What we want it to be is part of our goal, not only for WVU but for the whole state, for wellness and health for everyone."