A new trail – called the Civil Rights and Historical Trail – will run through the city of Tuskegee and Tuskegee University, honoring the area's civil rights leaders and history. The path will incorporate 13 markers that commemorate important figures, groups and places from the civil rights era.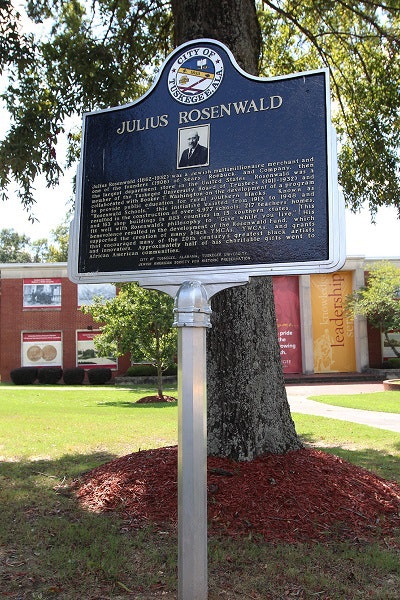 "Each of the subjects of our trail markers were chosen for their individual and unique aspects, which provide us and generations to follow the opportunity to learn and cherish the unforgettable role they – and the Tuskegee community – played in the American Civil Rights Movement of the 1950s and 1960s," said Tuskegee University archivist Dana Chandler, who helped choose the historical moments highlighted along the trail.
The markers celebrate figures like Jessie Guzman, the first Black citizen to run for political office in Alabama after Reconstruction, and William P. Mitchell, who sued the Board of Registrars for the right to register to vote. Other markers commemorate Tuskegee native Rosa Louise McCauley Parks, who used civil disobedience to challenge the state's segregation laws, and Tuskegee University trustee Julius Rosenwald, who collaborated with Booker T. Washington to offer public education for Black students in the South.
The trail also notes key organizations like The Tuskegee Civic Association, Mt. Olive Missionary Baptist Church and Tuskegee Churches, which welcomed civil rights icons.
Multiple organizations partnered to make the trail happen, including Tuskegee University Libraries, Museums and Archives, Macon County Bicentennial Committee, the Alabama Bicentennial Commission, the National Park Service, the City of Tuskegee, the Macon County Commission and the Jewish American Society for Historic Preservation.
"My father, who was liberated from the Buchenwald concentration camp, said 'Silence at your neighbor's oppression will mean silence at yours,'" said Jerry Klinger, the president and founder of the Jewish American Society for Historic Preservation's president and founder.
The trail will officially be dedicated at a ceremony in the Tuskegee Municipal Complex on Sept. 20. It'll be the seventh Alabama trail in the U.S. Civil Rights Trail.