Former National Football League (NFL) player Michael Johnson honored both of his parents, Thomasene and Samuel Johnson, by donating to their respective alma maters.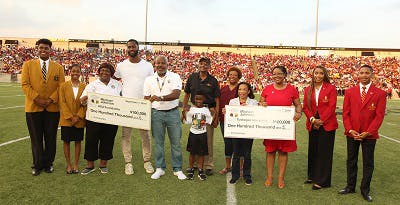 Johnson donated $100,000 each to Tuskegee University and Alabama State University to create scholarship funds bearing his parent's names.
"As a mother, I know what it means anytime one of your children makes a special gesture to acknowledge the role you play in their lives," said Tuskegee President Dr. Lily D. McNair in a statement. "What Michael has done in honor of both his parents is truly a heartwarming example of the impact parents have on their children and the impact donors can have on making the gift of education possible for others."
Since his retirement from the NFL, Johnson has worked to establish educational and economic opportunities within Selma, Alabama. Prior to this donation, Tuskegee collaborated with Johnson and worked with his charity MJ 93-90 Foundation, which he created in 2009 during his rookie season.
Johnson was drafted by the Cincinnati Bengals and spent majority of his career with them. He also played for the Tampa Bay Buccaneers for one season.