Radford University has internally disciplined a "classified staff employee" responsible for swiping some of the 1,000 missing copies of the university's student-run newspaper The Tartan in September.
The university has not identified the worker's name, but Chief of Police David Underwood stated in a letter that the worker will not be charged criminally. In the letter, Underwood wrote that there was nothing illegal in "someone taking multiple copies of a free newspaper."
The Tartan's Editor-in-Chief Dylan Lepore, however, feels differently and said that the paper has filed a Freedom of Information Act request for further security footage and is looking into filing a civil rights complaint.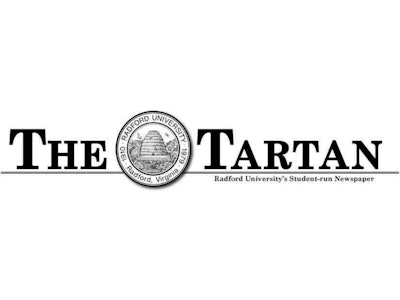 "It's definitely going to escalate. … It's a First Amendment issue," Lepore said to The Roanoke Times.
In addition, the paper has contacted the Student Press Law Center (SPLC), a nonprofit located in Washington, D.C. for advice on what actions to take next. According to SPLC guidelines, stealing free newspapers is classified as a crime because it removes community-funded property. The 1,000 missing copies comprises two thirds of the student-funded newspaper's weekly run.
Meanwhile, the motive for the theft of the Sept. 18th edition of the paper remains unknown, though various theories exist.
According to the Roanoke Times, university President Brian Hemphill and other school officials were offended by The Tartan's choice of a front-page photo accompanying the obituary of Stephen Tibbets, a new Criminal Justice department chairman. The photo, provided by Tibbets' wife, featured Tibbets standing beneath a street sign bearing his last name and the words "dead end" on it.
In the same edition, the paper also covered the death of freshman Aris Eduardo Lobo-Perez who died while in custody at the New River Valley Regional Jail.
Further adding to speculation, the 1,000 missing newspapers disappeared the evening before television journalist Katie Couric moderated a political discussion on campus before alumni, members of the board of visitors, students and other guests.
"I don't know if any of that holds. But that's a theory," Lepore told The Roanoke Times.