Founder, president and CEO of Music World Entertainment Dr. Mathew Knowles – also known as Beyoncé's father – is teaching a business class at Prairie View A&M University this fall.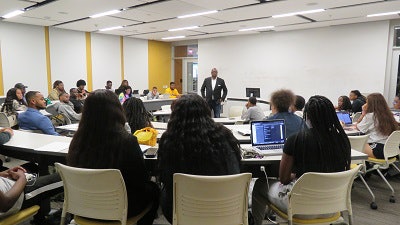 Knowles earned an MBA and a Ph.D. in business administration at Cornerstone Christian University.
In the course – Sports, Event and Entertainment Marketing – he tells students about what it's like to manage a record label and teaches them how to run tours and events. The class culminates in a trip to Music World Entertainment.
The class is co-taught by Dr. Rick Baldwin, associate professor of management and marketing at Prairie View A&M University College of Business. The 35 students in the class spend seven class periods with him and seven class periods with Knowles.
The two plan to teach another business class together in the spring.