Last year, the Confederate statue Silent Sam fell after protests occurred on the University of North Carolina (UNC) at Chapel Hill's campus.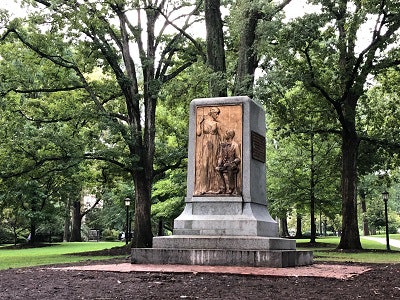 The statue was placed in storage and the location wasn't revealed until recently. UNC announced last week that the statue would be given to the North Carolina division of the Sons of Confederate Veterans. As part of the settlement, the university would fund a $2.5 million trust for "care and preservation," which includes paying for a facility where the monument would be displayed, according to the New York Times.
Under the agreement, the group cannot keep the statue within UNC's 14 counties.
Jim Holmes, a member of the UNC Board of Governors, said in a statement that the agreement addressed "safety and security concerns" associated with the statue as there was a previous risk of rising violence and property damage.
"We believe this consent judgment not only addresses those concerns but does what is best for the university, and the university community in full compliance with North Carolina law," he said in a statement.
However, the university faced backlash for the decision.
In a Twitter statement, the UNC Black Congress emphasized that "the university has still failed to ever fully interrogate their complicity with White supremacy on this campus."
There is not set location for the statue currently. Although, the statue would most likely be placed in a visitor center, the New York Times reported.