Nearly 150 faculty members at Syracuse University have signed a petition calling for a university-wide, liberal arts core curriculum that would foster critical thinking on issues surrounding diversity, reported The Daily Orange.
The letter comes in response to a series of at least 17 hate crimes and bias-related incidents on or near SU's campus since Nov. 7. Though SU currently requires a single diversity course through first-year seminars, faculty members stress that it has been ineffective in creating an inclusive culture on campus.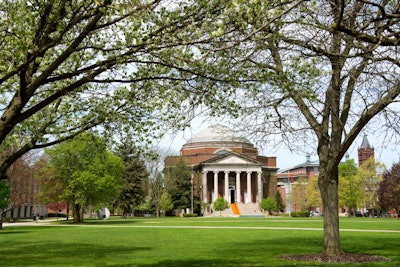 Instead, they propose an extensive liberal arts core curriculum required for all undergraduates throughout the entire university. To establish such a curriculum, the letter calls for SU to expand its faculty in the humanities, arts and social sciences in addition to diversifying its faculty throughout all departments. The letter also criticized SU's Cluster Hires Initiative which, it says, favored faculty in the hard sciences and diverted resources away from the humanities.
"Anything less, such as the single-course solution represented by Sem 100 in whatever guise, will be inadequate as other than a transitional measure and ultimately ineffective in shifting the campus climate of discrimination," the letter stated.
More than half the signatures on the petition came from the College of Arts and Sciences while no faculty members from the Martin J. Whitman School of Management, the School of Information Studies, or the College of Engineering and Computer Science signed the letter.