The Fashion Institute of Technology has suspended two top academic officials after they hosted a fashion show that many found offensive and racist, reported the New York Post.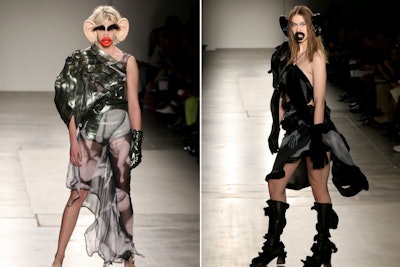 During the show, a recent graduate had his models wear oversized red lips and "monkey" ears.
The two officials suspended are Jonathan Kyle Farmer, chair of the M.F.A. fashion design department, and Mary Davis, dean of the School of Graduate Studies.
In a public letter, the school's president, Dr. Joyce Brown wrote that the show, which was meant to demonstrate the work of recent M.F.A. graduates, "failed to recognize or anticipate the racist references and cultural insensitivities that were obvious to almost everybody else."
She said that the institute has commissioned an independent investigation into the incident. She asked that the public refrain from criticizing the recent graduate involved, and urged the fashion community to take out their anger on FIT, which is a taxpayer-funded, school run by The State University of New York.