#NotAgainSU, a body of students protesting racism and prejudice on campus, hopes to soon hold negotiations with Syracuse University (SU), following an evening of protests yesterday, reported Syracuse.com.
In response to more than 20 hate-related incidents last semester, roughly 30-50 of the group's protesters have continued to occupy an administrative building for 11 days in a row.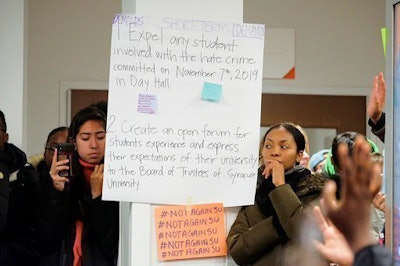 In that course of time, SU has shifted its handling of the occupation several times, from revoking 30 brief suspensions to now allowing outside entry and food delivery. Earlier this week, the school also hired former attorney general Loretta Lynch to lead an independent review of SU's Department of Public Safety after students alleged mistreatment by DPS officers.
Now, with both students and supporters free to enter and leave the building as they please, #NotAgainSU signaled it's open to negotiations. However, it says it won't leave the building until its list of 34 demands is met by the administration. The demands include the resignation of top campus officials such as chancellor Kent Syverud.
After the university didn't agree to a meeting #NotAgainSU requested yesterday, roughly 100 students, faculty and supporters took to the streets and protested, shutting down two city blocks near campus for two hours last night.
According to Syracuse.com, SU had told the group it would not meet until "everyone agrees to terms that would ensure a substantive and respectful dialogue."
"The University is committed to constructive discussion with our students in Crouse-Hinds Hall," said SU senior associate vice president for communications Sarah Scalese.