Twenty-six professors at two of Pennsylvania's state universities have been notified they will be laid off by the end of the 2023-24 academic year, reports the Pittsburgh Post-Gazette. Three work at Mansfield University and the other 23 are at Lock Haven University.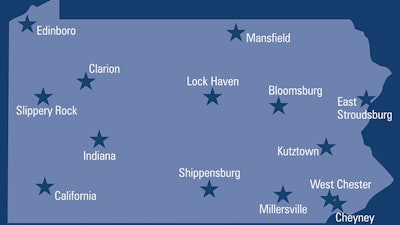 According to the Post-Gazette, the state's public universities have been hurting from falling enrollment as well as financial turmoil from the pandemic. Currently, the system enrolled fewer than 89,000 students, a significant drop from the 120,000 students just a decade ago.
In response, Pennsylvania's State System plans to merge several of its universities. California, Clarion and Edinboro universities — all in the western portion of the state — will become a united Pennsylvania Western University. Northeastern universities — Bloomsburg, Lock Haven and Mansfield — will also merge, though a formal name has not been given.
In regards to the layoff letters, State System officials had no comments for the Post-Gazette. Meanwhile, the Association of Pennsylvania State College and University Faculties, a union that represents 5,000 professors across the State System, told the paper that it's "working to find alternatives to job losses," noting that it had negotiated the long period of notice before the layoffs.