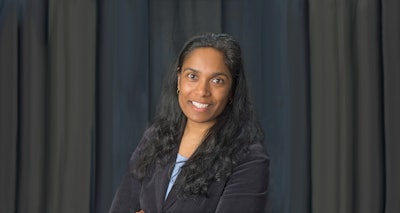 The Board of Trustees of The City University of New York (CUNY), the nation's largest urban public university, voted on Tuesday to appoint Sudha Setty as the dean of the CUNY School of Law. Setty is the first person of South Asian descent to lead a CUNY school.
"Dean Setty boasts a sustained record of accomplishment as an antitrust litigator, pro bono civil rights counsel, scholar of constitutional law, and legal education leader, as well as a pioneering administrator and leader," said William C. Thompson Jr., chairperson of CUNY's Board of Trustees. "We are thrilled to welcome her to CUNY Law."
Setty's appointment will start on July 1, 2022. She succeeds Eduardo R.C. Capulong, who has served as dean of CUNY Law in an interim capacity since March 2021. CUNY Law is recognized as one of the country's leading public interest law schools.
Since 2018, Setty has been dean of the Western New England University School of Law, where she became the first woman of South Asian descent in the U.S. to serve as dean of an American Bar Association-accredited law school. While dean there, Setty led the creation of its Center for Social Justice in 2019. She expanded racial justice-oriented programming and student support. She additionally led the faculty in adopting a graduation requirement for racial justice coursework.
"In this moment, the nation and the world have recognized what CUNY has known all along: that our society needs more lawyers who are educated with these fundamental values to take on the challenges of today and the future," said Setty. "I look forward to working with all members of the CUNY community as the law school seeks to make the world a fairer, more just, and better place."
Setty's area of expertise is comparative law, and she is an influential scholar of constitutional rights and national security. She received her J.D. from Columbia University School of Law and her bachelor's degree in history from Stanford University.