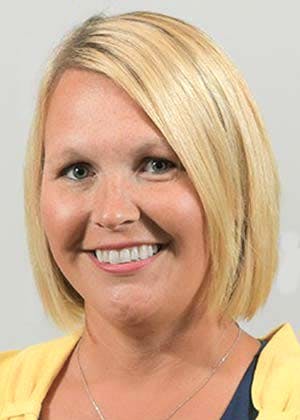 Emily Janoski-Haehlen, newly named dean of The University of Akron School of LawThe University of Akron has named Emily Janoski-Haehlen as the new dean of the School of Law.  She will be the first woman to permanently hold the position at the school. 
"She is the right leader at the right time," said Dr. John Wiencek, UA's executive vice president and provost. "Her many years in leadership and in the classroom are an asset for us, especially as we put renewed focus on student success and community."
Janoski-Haehlen previously served as Akron Law's associate dean of academic affairs and law technology programs as well as the director of the Law Library. In 2017, she joined the Akron Law faculty. Her research focuses on social media law, internet privacy, and technology in the practice of law.
"I look forward to working with the Akron Law community to ensure the continued success of our students and graduates," said Janoski-Haehlen.
Prior to Akron Law, she was associate dean of Valparaiso University Law School's Law Library. Janoski-Haehlen has also been a faculty member and librarian at Northern Kentucky University's Chase College of Law. She earned her law degree at Northern Kentucky University, and she received her bachelor's and master's degrees from the University of Kentucky.