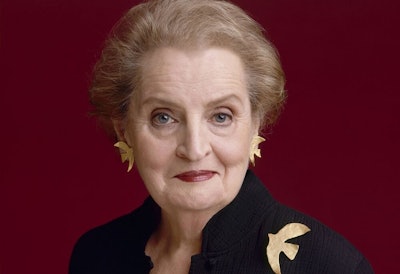 Dr. Madeleine Albright, a refugee who became the first female U.S. secretary of state and a feminist icon, died on Wednesday, March 23, at the age of 84. Her family announced her death on Twitter, saying that she had died of cancer.
"Madeleine Albright was a force," said President Joe Biden. "She defied convention and broke barriers again and again."
During World War II, Albright fled the Nazis as a child in her native Czechoslovakia before later becoming a trailblazer on the world stage. She served as U.S. ambassador to the United Nations from 1993 to 1997 under President Bill Clinton's administration. Clinton then nominated Albright to be the first female secretary of state, a role that she served from 1997 to 2001.
Albright attended Wellesley College and received her doctorate from Columbia University. After leaving the Clinton administration, she wrote several books, including "Hell and Other Destinations," which was published in April 2020. She was known as a plain-spoken, tough diplomat who understood the dangers of abusive nationalism.
Upon learning of Albright's passing, President Biden ordered that U.S. flags be flown at half-staff at the White House and government buildings until March 27.