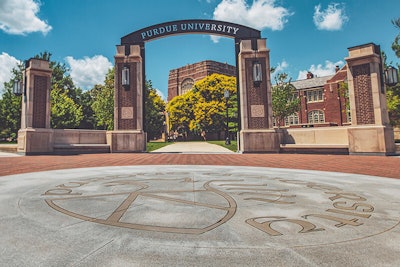 As part of its new Ukrainian Scholars Initiative, Purdue University has so far matched 11 scholars fleeing war-torn Ukraine with campus hosts. The program seeks to help visiting scholars continue their scholarship safely in the U.S. for about a year.
"If we can make a home, at least temporarily, here for these outstanding talents in academics, that's what America has always done throughout its history," said Mitch Daniels, Purdue's president. "Purdue feels a deep calling to create this opportunity for our Ukrainian academic colleagues on our campus, which already has one of this nation's most globally diverse faculty."
The university's goal is to host up to 20 Ukrainian scholars displaced by the Russian invasion. About 50 scholars have voiced interest in the program so far. Purdue is currently considering another 15 Ukrainian scholars to join the initiative. The scholars would likely arrive on campus in late spring or early summer.
The initiative is open to those who have faculty positions at Ukrainian universities and whose academic work has been derailed due to the war. Ukrainian students in doctoral programs who are at the dissertation research stage are also eligible.
Each scholar in the program would be assigned a tenure-track faculty sponsor at Purdue in their academic area. They would hold J-1 visa status, though they would not be eligible to enroll in a degree-granting program at Purdue.
Scholars would receive a monthly stipend in addition to financial assistance for dependents (spouse or child under the age of 21). Purdue would cover roundtrip transportation costs and visa expenses. Scholars would also be offered health insurance through the university's benefits program.
"The response and connections we have made since announcing the preliminary details for our Ukrainian Scholars Initiative two weeks ago has been overwhelming," said Dr. Mike Brzezinski, dean of international programs at Purdue. "We are heartened that Purdue will be able to offer at least a temporary refuge to several Ukrainian scholars during this very difficult time in their history."