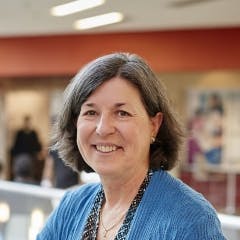 Dr. Karen Stout, president and CEO of Achieving the DreamAchieving the DreamA new study from Achieving the Dream (ATD), a community college research and advocacy group, found that open education resources (OER) are bringing more student-centered, equitable teaching into classrooms. But the research found that greater OER support and training is needed to better realize its promise.
OER refers to free, quality learning materials that can be downloaded, edited, and shared to serve students. ATD's qualitative study, titled "Teaching and Learning with Open Educational Resources," examined how instructors use OER to advance student outcomes. SRI Education, a nonprofit research institute, conducted the study.
Researchers led interviews with faculty and administrators, student focus groups, and course observations at eight community colleges. Findings included that students who used OER and culturally responsive practices reported feeling an increased sense of belonging and connection to the course material.
Additionally, instructors who took part in OER were better able to make course material inclusive, tailoring their content to students' needs and backgrounds.
"Overall, the study indicates that pedagogy that aligns with the five dimensions of open and culturally responsive teaching can be a powerful lever to help create more dynamic, student-centered, engaging classrooms that can help students gain the momentum they need to persist and reach their goals," said Dr. Karen A. Stout, president and CEO of ATD. "Our committed and technology-oriented faculty, often left behind in this research, need support and professional learning opportunities to take their work in the classroom to a new level."
The study was funded by the William and Flora Hewlett Foundation. ATD also received an additional OER grant of $800,000 from the Foundation to partner with SRI and the Tennessee Board of Regents to research open and culturally responsive teaching in OER grantee classrooms.