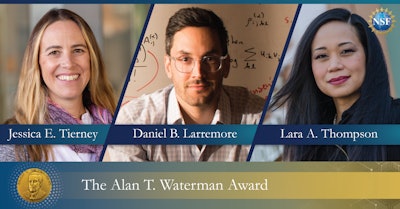 The U.S. National Science Foundation (NSF) has named three scientists to receive this year's Alan T. Waterman Award, the country's top honor for early-career scientists and engineers.
The awardees are Dr. Lara A. Thompson, a biomedical engineer at the University of the District of Columbia as well as a 2017 Diverse Emerging Scholar; Dr. Jessica E. Tierney, a geoscientist at the University of Arizona; and Dr. Daniel B. Larremore, a computer scientist at the University of Colorado Boulder.
"It is a great pleasure to honor these three outstanding scientists with the Waterman Award," said Dr. Sethuraman Panchanathan, NSF director. "They have clearly demonstrated a superb record of scientific achievements by using creative and innovative approaches that have further strengthened basic research in their respective fields. We are grateful to all of our honorees for the vital role they play in advancing the scientific enterprise."
Awardees each receive $1 million over five years for research in their chosen field of science. The Waterman Award will be presented to recipients at a May 5 ceremony in Washington, D.C. The award is named for Alan T. Waterman, NSF's first director.