North Carolina Agricultural and Technical State University (N.C. A&T) will receive a $23.7 million Good Jobs Challenge grant to create a clean energy workforce training program.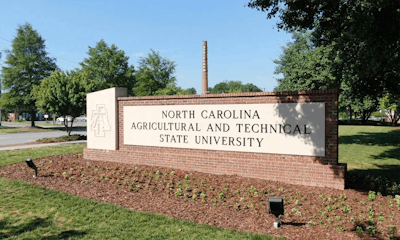 STEPs4GROWTH will create training for the region's growing clean energy sector. The program – with a focus on equity – will use mobile training units in 16 economically distressed N.C. counties to remove barriers to access and give training.
"Through this important project, North Carolina A&T will play a leading role in preparing well-trained workers to fill the many skilled jobs in America's rapidly growing clean energy sector," said Chancellor Harold L. Martin Sr. "The prescient work of A&T engineering faculty and principal investigators on this grant, Balakrishna Gokaraju and Greg Monty, has culminated in a novel program for delivering education credentials through stackable certificates.
"Their training program will contribute significantly to preparing the highly skilled clean energy workforce of the future."
More than 40 employers – including Strata Clean Energy, Enviva, Siemens Energy, Duke Energy, and Blue Ridge Power – have committed to hiring 3,000 STEPs4GROWTH trainees over four years, then 1,500 trainees every year after.
The overall $500 million Good Jobs Challenge is funded by President Joe Biden's American Rescue Plan. N.C. A&T's portion of it is the largest among 32 U.S. workforce training partnerships.