Applications to the U.S. military service academies dropped significantly this past year as the military continues to deal with recruitment issues amid a national college enrollment decline during the pandemic, Military.com reported.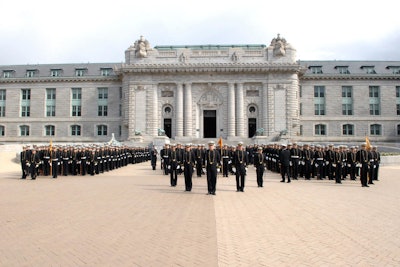 The decreases in service academy applications ranged from 10% to nearly 30%.
The Air Force Academy had 8,393 people apply this past year, a 28% drop from the year before. The U.S. Naval Academy saw a 20% application drop for its class of 2026, according to Naval Academy spokeswoman Elizabeth Wrightson.
Some officials cited COVID-19 restrictions as limiting in-person recruiting events. And some officials also said they are competing with other higher ed institutions for the same students.
The U.S. Military Academy at West Point had 12,589 applications for its class of 2026, about a 10% fall from last year but still higher than the recent 2022 and 2023 classes.
"The academy is not concerned about this nominal drop-off in applications since we had record high applications in the 2024 cycle," West Point spokesman Francis J. DeMaro Jr. said. "The downturn in applications is more of a result of pandemic issues associated with higher education across the board and an increase in taking a 'gap year' amongst high school graduates."
Fewer young adults now qualify. Only about 25% of young Americans are eligible for service these days, a shrinking pool with an increasing number of those overweight or are screened out due to minor criminal infractions, such as recreational drug usage, Military.com reported.
And military enlistment has become less appealing to younger people, Military.com reported.
"I think a lot of times the military thinks about monetary benefits," Rand Corp researcher Chaitra M. Hardison said. "But there are other things that factor into people's decision, and that includes quality of life and job satisfaction and interests."