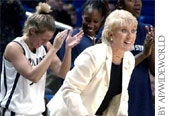 Less than four months ago, Wayne Holmberg scored 21 points to help lift his team to a small-schools Alaska state basketball championship.
It was as good as it gets for Holmberg, who had spent most of the roller-coaster season practicing in a makeshift cafeteria gym after his small western Alaska village of Kalskag had a fire burn the entire school to the ground.
All that daily struggle was over. Holmberg was on top of the world as a state champion.
The 16-year-old's borders were dramatically expanded this week during his first trip outside Alaska.
Holmberg is in Phoenix for the Native American Basketball Invitational (NABI), the only all Native American NCAA-affiliated basketball tournament in North America.
On Wednesday, Holmberg and his Alaska teammates opened the tournament by edging the Ballerz of Crownpoint, N.M., 66-62. Team Alaska was to play two games Thursday to determine if it advances into the final bracket and has a chance at the tournament championship.
The high school junior and state 1A player of the year is part of the first Alaska all-star team to appear at the seventh annual tournament, which began Wednesday. Holmberg is hoping his basketball skills could lead to a college scholarship.
The NABI has grown into a showcase event for Native American high school basketball gym rats like Holmberg who have gone undetected on their respective reservations or isolated Alaskan villages.
There are only three requirements for teams to bring players to compete in the tournament: players must be enrolled in high school (graduating seniors are eligible); be no older than 19; and must have proof of Native American ancestry with a tribal enrollment card or certificate of Indian blood.
Sam McCracken, general manager for Native American business for event sponsor Nike, said basketball is like the heartbeat of Native American culture.
"You'll hear in our culture that the beating drum is the heartbeat of our people," he said, "but I always correlate it to the bouncing ball in the gym."
GinaMarie Scarpa, along with former NBA player Mark West, approached McCracken in 2002 to form the tournament to help young Native Americans continue their education through basketball. There were 24 teams at NABI's debut in 2003.
"If you think about the locations where these kids might reside, they are in a lot of rural locations," McCracken said. "What this event does is it allows them to come together for coaches to see them play."
The tournament concludes Saturday, with championship games at U.S. Airways Arena, home of the NBA's Phoenix Suns and WNBA's Phoenix Mercury.
There are 64 teams from across the United States this year: teams of 38 boys and 26 girls.
That's down from 80 teams last year and 86 teams in 2007. Scarpa, also the tournament director, said that, no matter the size of the tournament, it has "diamonds in the rough" for recruiters. She expects more than 100 teams participating as the tournament continues to grow and transitions into a nonprofit organization next year.
"This is an untapped talent that NCAA coaches really need to know about," Scarpa said of NABI players. "They don't even have an idea of what type of talent is here because they can't fathom an all-Native tournament."
The tournament won a five-year battle with the NCAA to become certified in 2007, allowing Division I and Division II college coaches and scouts to attend to recruit NABI athletes.
"That was a great victory for Native Americans," Scarpa said.
"There's just so much talent here that we'd love to see players go on to a college or pro careers," she said. "Our biggest thing is to get these players through the doors and in college."
Phil Hormeratha, Haskell Indian Nations University women's basketball coach, said his team flourished with NABI players.
The university, which became NAIA affiliated in 2002 and a member of the Midland Collegiate Athletic Conference in 2003, just missed out on a national tournament berth last year, losing by two points in the conference championship.
Eight players from that team played in previous NABI tournaments where Hormeratha had scooped them up.
"On my budget I would have never seen these girls otherwise," the longtime coach said. "It's also one way of showing, 'Look at us; Natives can play.'"
Team Colorado is one of the teams out to show everyone they can play.
The team, consisting of mainly Ute Mountain and Southern Ute tribal members, has just six players but expects to be very competitive.
Colorado coach Christian Manzanares said, win or lose, he is expecting a very positive experience for his young players. He said several of his players have what it takes to play at the next level; it's just a matter of getting recognized.
That's where NABI steps in.
"Just knowing scouts and coaches are there makes me want to play my heart out," said 16-year-old Jay Black of Ignacio, Colo. "I want to run as fast as I can and jump as high as I can to show what we can do."


© Copyright 2005 by DiverseEducation.com