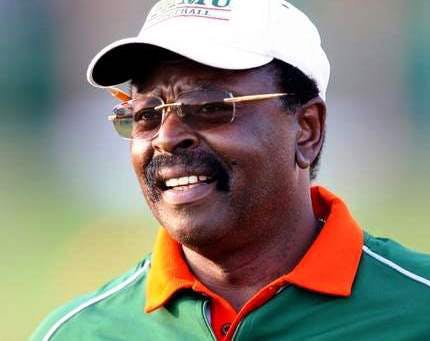 TALLAHASSEE, Fla. – Florida A&M coach Joe Taylor believes there are things that are more important than football. Voting is one of them.
And he's ensuring his players at the historical Black university are prepared to participate in the political process.
"I've always looked at coaching as a ministry," said Taylor, who grew up in Washington, D.C, during the height of the civil rights movement. "It's an opportunity to enhance and, even in a lot of cases, save lives."
Taylor took part of a practice day to work with members of the Rattler football team to ensure they are registered to vote. Florida is among several states where newly passed laws appear to have toughened identification requirements for voters like college students.
"The good Lord didn't put them here just to be uniform racks," he said. "You just want to make things available."
And there are parallels with sport and life.
"Life is about options," the veteran coach said. "Put someone in a position to have options."
"As young Black men, it's very important that we get out and vote," said senior linebacker Brandon Hepburn from Pomona, N.Y. "We want our voices to be heard."
Hepburn was among the third of the Rattler squad previously registered. Now every player on the Rattler squad old enough to cast a ballot is registered.
Teammate Eddie Rocker, a senior running back from Ocala, plans to vote for the first time in November. On Election Day, he'll be among the team's senior leaders who help shepherd teammates to the polls.
"I'll take the defense as an entire unit," Hepburn said. "I'll make sure my brothers will vote."
It is unclear how many other schools are doing anything similar to FAMU. NCAA spokeswoman Stacey Osburn said the NCAA doesn't have records on which institutions help student-athletes register to vote.
Florida State, located less than a mile from the FAMU campus, isn't proactive in encouraging or emphasizing voting among its student athletes, spokesman Rob Wilson said.
According to figures from compiled from 2008 by the Fair Elections Legal Network, 87 percent of college students between ages 18 and 24 that were registered actually voted.
With both political conventions nearly over and Election Day less than two months away, at least one other of FAMU's Mid-East Athletic Conference rivals is also registering its athletes to vote.
Morgan State coach Donald Hill-Eley, who previously played for and later coached with Taylor, is doing something very similar with his players on Sept. 13.
"They can be Republican or Democrat, but they need to take advantage of the opportunity and not just sit back and complain about what's happening in the world," Hill-Eley said. "I don't try to influence them, but don't sit back and talk about the world. Find your part in it."
Like FAMU, only a small majority of the player at Morgan State located in Baltimore were previously registered to vote. That's changed.
"We'll be represented," Hill-Eley promised.