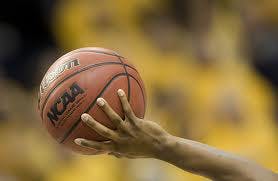 Graduation rates for athletes competing in the NCAA Division I Men's Basketball Tournament rose significantly over last year, and gaps along racial lines narrowed slightly, but not nearly enough to declare a victory over disparities in academics.
That was the heart of the message that a leading collegiate sports scholar delivered Thursday during what has become a pre-March Madness routine for the annual release of a report meant to call attention issues of academic equity.
Dr. Richard Lapchick, founder and
director of the Institute for Diversity and Ethics In Sport, or TIDES, at the University of Central Florida, said the "good news" from his new report — titled Keeping Score When It Counts: Graduation Success and Academic Progress Rates for the 2013 NCAA Division I Men's Basketball Tournament Teams —  is that the overall Graduation Success Rate, or GSR, for male basketball student-athletes increased in 2013 to 70 percent from 67 percent last year.
At a more demographically detailed level, the report found, the GSR for African-American male basketball student-athletes rose from 59 to 65 percent from 2012 to 2013, and for White male basketball student-athletes, the GSR increased slightly from 88 percent to 90 percent, respectively.
"While all that sounds good, it still leaves the enormous gap between White and African-American basketball players," Lapchick said of the 25 percent gap that exists between the GSR for White and African-American student-athletes on the tournament teams.
Though the gap is three percent lower than it was last year at 28 percent, "that's still a huge issue," Lapchick said.
He lamented other statistics in the report.
"It is simply not acceptable that in 2013, 40 percent of the men's teams had a GSR disparity of greater than 30 percent between White student-athletes and African-American student-athletes, and 53 percent had a GSR disparity of greater than 20 percent," Lapchick said.
Other findings of the report include:
n    87 percent (59 teams) graduated 50 percent or more of their men's basketball student-athletes in 2013, up from 79 percent (54 teams) in 2012.
n    65 percent (44 teams) graduated 60 percent or more of their men's basketball student-athletes in 2013, up from 57 percent (39 teams) in 2012.
n    53 percent (36 teams) graduated 70 percent or more of their men's basketball student-athletes in 2013, up from 40 percent (27 teams) in 2012.
n    The percentage of teams with GSRs below 40 percent decreased to six percent (four teams) in 2013 from last year's rate of seven percent.
As in previous years, Lapchick made his remarks during a press call with U.S. Secretary of Education Arne Duncan and Ben Jealous, president and CEO of the NAACP.
They were joined by Tom McMillen, a former Maryland Congressman and University of Maryland basketball star who is now a member of the Board of Regents for the University System of Maryland.
Lapchick attributed this year's improvements to Duncan's ongoing efforts to shine the light on the graduation rate of student-athletes.
Duncan attributed the improvements to a stricter set of criteria developed by the NCAA to determine tournament eligibility.
The criteria, known as the APR — or Academic Progress Rate — is a four-year average of academic performance that rewards student-athletes for remaining eligible, as well as continuing their education at the same school, according to TIDES.
The NCAA recently voted to institute a stricter APR policy that will require teams to have a four-year APR above 930, which is equal to a 50 percent graduation rate, to qualify for postseason participation the following year, according to the NCAA.
Starting with this academic year's championships, teams must earn a minimum 900 four-year APR or a 930 average over the most recent two years to be eligible to participate, the NCAA stated. For 2014-15 championships, teams must earn a 930 four-year average APR or a 940 average over the most recent two years to participate in championships. In 2015-16 and afterward, teams must earn a four-year APR of 930 to compete in championships, the NCAA said.
"Having teams lose ability to compete sends a clear and compelling message to coaches and athletic directors," Duncan said. "When incentives changed, people woke up to the reality of what was really important."
"The issue here, as it always is, is that this comes down to leadership," said Jealous of the NAACP. "When a coach prioritizes the entire student-athlete, students succeed. When coaches focus on the athletic part of the equation and neglect the student part of the equation, frankly, they let down the very team they have been hired to guide and to lead."
McMillen, the Maryland regent, said the vast majority of incentives in coaches' contracts favor athletics over academics, at a rate of 11 to 1, and that there is a need for a greater balance. He based his assessment on a review of 50 or so contracts for collegiate basketball and football coaches.
"Many contracts have academic incentives is good news," McMillen said. "But bad news is they are diminished compared to athletics."
Duncan said college trustees and presidents should work to incorporate a stronger emphasis on academics in future contracts for coaches.
"It will take courage and leadership and willingness to engage and inform ourselves of the facts and challenge the status quo and lead with a different set of values and guiding principles," Duncan said. "The vast majority of coaches absolutely want to do the right thing. But today the incentives are all wrong."
Lapchick's report singled out nearly a dozen schools for achieving a GSR of 100 percent. They are: Western Kentucky University, University of Illinois-Champaign, Harvard University, Villanova University, Duke University, Bucknell University, University of Kansas, Belmont University, University of Notre Dame, University of the Pacific and Davidson College.
It also found six teams — or nine percent — with APRs below 930, which means they would not be eligible for postseason participation under the future NCAA rules. Those teams were: Southern University, James Madison University, Saint Louis University, New Mexico State University, University of Oregon and Oklahoma State University.
To view the study visit: http://www.tidesport.org/Grad%20Rates/2013%20Men's%20Basketball%20Tournament%20Teams%20Study.pdf