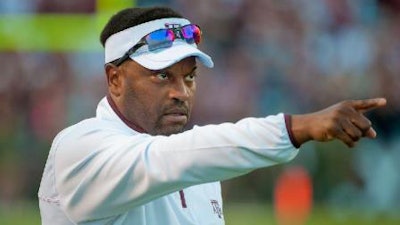 When the college football season starts on August 29 it will mark the first time that two Black head coaches begin the season ranked in the top 10 of the Associated Press Top 25. Kevin Sumlin and his Texas A&M Aggies are ranked No. 5 while David Shaw and the Stanford Cardinal are No. 7.
Two other Black head coaches have teams ranked in the top 25: Charlie Strong at the University of Louisville (No.13) and James Franklin, in his third season, at Vanderbilt (No. 23).
No Black head coach in the modern era of college football has won the national championship primarily due to the lack of opportunities for the job that is often the most lucrative on campus. The 2012 season began with 15 African-Americans leading teams out of the 120 that make up the Football Bowl Subdivision (FBS). That group made up just 12.5 percent of all head coaches in a sport where approximately 60 percent of the players are African-American. That percentage of Black players is higher when you look at the top half of those teams that make up the "Power 5" conferences (ACC, Big 10, Big 12, SEC, Pac-12).
This season, there are eight other Black head coaches among FBS schools. They are: Ron English, Eastern Michigan; Darrell Hazell, Purdue; Curtis Johnson, Tulane; Mike London, University of Virginia; Garrick McKee, University of Alabama-Birmingham; Ruffin McNeill, East Carolina; Willie Taggart, South Florida; and Don Treadwell, Miami-Ohio.
Sumlin, Shaw and Strong have the best chances among the group of Black head coaches of becoming the first to win a national championship this season. Sumlin's Aggies were the only team last season to defeat the Alabama Crimson Tide, who went on to win the 2013 national championship. They also have Heisman trophy winner Johnny Manziel returning as the starting quarterback. SEC teams have won the last six national championships and it is considered the toughest conference in college football.
Stanford's David Shaw is entering his third season with the Cardinal and finished last season at 12-2. They are the favorites to win the Pac-12 Conference title and will face Notre Dame in their Nov. 30 regular season finale. Shaw's team should go into the season with confidence as they were 5-1 against top 25 teams last season.
Charlie Strong and Louisville will be playing in the new American Athletic Conference (formerly the Big East). They were 11-2 last season and won the Sugar Bowl over Florida. Their strength of schedule will not be equal to those of Stanford and Texas A&M but that also could give them a better chance of going undefeated. Their returning quarterback Teddy Bridgewater also is a Heisman candidate.