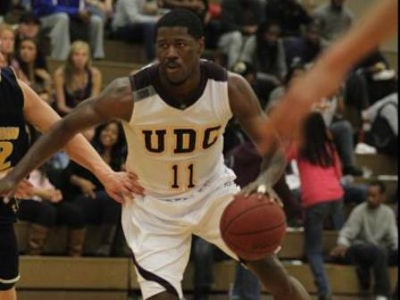 WASHINGTON—A controversial proposal to disband intercollegiate sports teams at the University of the District of Columbia was delayed this week by the school's board of trustees who said that, for now, the public land grant university should remain in the NCAA Division II athletic program.
Dr. James E. Lyons Sr., the university's interim president, proposed ending the school's overall participation in the NCAA in an effort to divert the $4 million spent annually on intercollegiate athletics to other academic programs and services at the struggling Historically Black College and University.
"To me, this is not about defeat," said Lyons, who was appointed last March by the trustees to lead the D.C. flagship university after its former president, Dr. Allen L. Sessoms, was fired abruptly. "I try in all things to keep my eyes on the prize. This is not about being anti anything, but figuring out how we build a quality institution with a positive reputation across the board that is trying not to do everything but doing some things well."
Lyons was successful in convincing trustee members to eliminate 17 academic programs where majors have consistently been low. The list of programs scheduled to be gutted in the near future includes sociology, economics, history and physics. The streamlining of the academic curriculum, Lyons said, was necessary to ensure that the university remained competitive in the future.
"It's painful to be in a situation where we have to make recommendations to eliminate things," he said. "But, at the end of the day, it makes sense to have fewer baccalaureate programs but stronger programs of excellence."
From the onset, Lyons' proposal was met with fierce resistance and protest from students, faculty and some alumni. Even Dr. Elaine Crider, the board chairwoman and an ally who was largely responsible for convincing Lyons to come out of retirement to lead the university earlier this year, sided with six other trustees to table the proposal on eliminating athletics. In the final vote, five trustees sided with Lyons.
"Athletics is a discussion that needed to take place at UDC," said Lyons, who is a member of the NCAA Division II President's Council. "We have to decide if this is worth committing to at the expense of hiring faculty members in electrical engineering or to help the business department move toward accreditation."
Lyons is a seasoned administrator who has held the presidency at five colleges and served as Maryland's secretary of higher education from 2007 to 2010. In an interview with Diverse, he said that he was hired to place the entire university "under a microscope" to better assist whoever is selected as the permanent president.
"They didn't bring me in to be a crazy; to shoot up everything and go home," said Lyons, who, at 70, says that his age and his desire to spend time with his grandchildren would not make him the ideal permanent candidate for the president's job. "I have a reputation to protect. Some of the things we're doing is really to help make it easier for the person who comes behind. It's hard to put all of this on a new president."
The painstaking process of turning UDC around has been in the works for many years. Low student enrollment, coupled with poor graduation rates and budgetary constraints, have made it difficult for the university to forge forward.
Lyons said that students who are already enrolled in degree programs slated to be eliminated would be allowed to finish their degrees in those subjects. The trustees also voted to keep a major in elementary education and delay cutting a major in special education.
"I feel much better now that I know that my child won't just be thrown to the wolves," said Carolyn Williamson, whose son, Jason, is a first-year student at UDC who is considering majoring in elementary education. Williamson was among dozens of students, faculty and community members who crowded into the UDC board room to decry the cuts.
Lyons said that he understands their concerns and frustrations.
"Everyone is concerned," he said. "This is about quality. My job was to put everything on the table so the board can make a decision. If the decision is to stay with athletics, we can look for other ways to identify resources to support our other programs."
Jamal Watson can be reached at jwatson1@at diverseeducation.com.