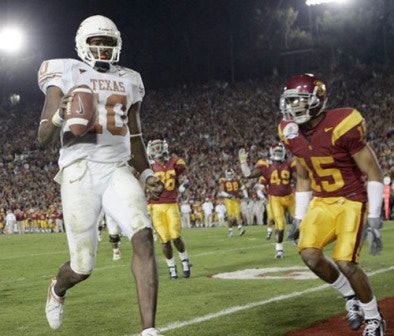 A study of this year's bowl-bound schools reveals they are graduating White players at a significantly higher percentage than African-American players.
The average graduation success rate for African-American football players at the bowl-bound schools is 65 percent, compared to 84 percent for whites, according to the annual report released Monday by The Institute for Diversity and Ethics in Sport at the University of Central Florida.
Richard Lapchick, principal author of the study and director of TIDES, says that the disparity is largely a reflection of the lack of quality education African-American players are receiving as adolescents.
"The news is really about America's problem of solving the disparities between African-Americans and Whites in society," Lapchick says. "Things like graduation rates keep getting better for both African-Americans and Whites but that gap (between them) can take the heart out of the good news about the improvement."
Lapchick says the lack of quality education in primary and secondary level school systems is a major part of the problem.
"They get behind and it makes it tough for them to catch up in college," he says.
Lapchick points out the most disturbing fact of the study is only 37 percent of the bowl-bound schools graduated 66 percent or more of African-American student-athletes. However, 99 percent of those same schools graduated at least 66 percent of White students.
"That's appalling," he says.
Also, 23 percent of this year's bowl-bound schools also had graduation success rates (GSRs) for African-American players that were at least 30 percentage points lower than their white counterparts.
Georgia, North Dame, Rice, Duke and Utah State were the only schools that had higher GSRs for their African-American football players than for White football players.
Only Boise State and Rice had overall GSRs for football players that were better overall compared to student-athletes overall.
Rice and Boston College led the way overall in terms of graduation rates, according to the study.
Both schools graduated at least 94 percent of all football players and at least 93 percent of African-American football student athletes.
"Rice and Boston College would have played for the national championship if there was a national championship game based on graduation success rates among bowl teams," Lapchick says.
As for this year's two national championship contenders, Florida State graduated 58 percent of all football players and 50 percent of African-American football players. Auburn graduated 70 percent of its football players and 53 percent of its African-American football players.
The GSR measures graduation rates of Division I schools after four years and includes students transferring into the institutions. The GSR also allows schools to subtract athletes who leave before graduation, as long as they would have been academically eligible to compete if they remained.
According to the study, TIDES reviewed the six-year graduation rates of each school's freshman class that enrolled in 2006-07, and then calculated a four-class average from 2003-07.
In terms of the NCAA's Academic Progress Rate (APR), the study found that 97 percent of the bowl-bound schools received scores of 925 or higher. Louisville was the only bowl-bound team with an APR below 925.
The Atlantic Coast Conference had five schools in the top 15 in APR, while the Big 10, Southeastern Conference and American Athletic Conference each had two schools.
Boise State had the highest APR at 993, while Duke was second at 989.
The NCAA created the APR system in 2004 to more accurately measure student-athletes' academic success and graduation rates.