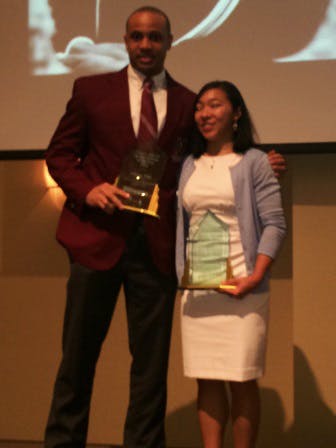 FAIRFAX, Va. ― For high school student athletes concerned about making the grade in college and beyond, experts say the formula for success is fairly simple: have a plan, execute and take responsibility.
On Thursday, the young adults at the 2014 Arthur Ashe Jr. Sports Scholars Symposium and Awards Luncheon were provided with the opportunity to learn from panelists who ranged from former star athletes to educators to entrepreneurs.
Titus Duren, who had been a high school principal for 28 years in South Carolina and had guided scores of successful student athletes, emphasized that good study habits and hard work are the foundation. Jim Lewis, women's basketball coach at Georgetown University, said that science, technology, engineering and math (STEM) courses are the coin of the realm today, especially since he advises everybody—not just student athletes—to have a Plan B in life.
"We're all going to be pros for 40 years and not just four years in the NBA," Lewis said.
Steve Neal, who admittedly was not a good student during his days as a basketball player at George Mason University, spoke of how important it is to be nimble and ready to change course when adversity stands in the way.
"There will be many ups and downs," said Neal, CEO of K. Neal International, a multi-location commercial truck dealership that did nearly $150 million in business last year and ranked No. 33 among minority-owned businesses in the nation. "How you handle those ups and downs will determine your success."
Neal has walked the walk. After coming to terms with the fact that he wasn't going to play pro basketball after graduating from George Mason, he spent 25 years at Giant Food Stores and worked his way from a manager's program—"When everybody else worked 8 hours, I had to work 16 to get to the same place," Neal said—to become the Chief Operating Officer at age 49.
That's where he hit the glass ceiling. Neal said he was told in no uncertain terms that he was not going to be Chief Executive Officer.
The competiveness and discipline Neal learned as an athlete kicked in; he was not going to settle for being No. 2 and that sent him on the path to owning his business. As Pat Kendrick, women's volleyball coach at George Mason, said, "When you get out in the world, everybody doesn't get a trophy for just showing up."
During the luncheon, Ishaq Pitt of the University of Maryland – Eastern Shore (basketball) and Michelle Ikoma of the University of North Carolina at Chapel Hill (gymnastics) were honored as winners of the Arthur Ashe Sports Scholars award. They, along with Marvellous Iheukwumere of Columbia University (track) and John Urschel of Penn State University (football), were selected by Diverse from more than 600 exemplary minority students nominated by their institutions for their outstanding performance in athletics and academics as well as community service.
The Ashe Award was initiated in 1992 to celebrate college students who demonstrate the quest of excellence envisioned by the late tennis player and activist Arthur Ashe Jr.
Pitt, a junior and an accounting major, said he has an internship with Deloitte this summer and plans to get an MBA from an Ivy League school.
"I want to build on a great foundation," said Pitt, who is from Brooklyn, N.Y. "I want to show kids that there's more to life, more options for careers than sports and music."
In accepting his award, Pitt encouraged the Ashe Award nominees to "not only continue on your path, but encourage others to join you."
That approach essentially touched on the array of topics discussed during the course of the day that included preparation for college, time management, mentors and friends, coping with difficult coaches and making the most of opportunities.
A quote cited early in the program and attributed to former New York Jets coach Herm Edwards proved to be the primary point to ponder from the forum: "A goal without a plan is merely a wish."
G.E. Branch III is Online Editor of Diverse.