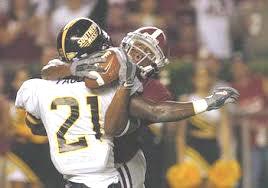 OAKLAND, Calif. ― Tyrone Prothro made a play so spectacular it's known in Alabama as "The Catch," immortalized both in photos and an advertising campaign by automaker Pontiac.
But when it came time a few years ago to get surgery on the leg he broke during a 2005 game ― his 10th surgery for the injury ― he was told by a trainer that his college benefits were about to run out.
"He said he would do it, but kind of mentioned that it would be the last time," Prothro said.
Prothro took the witness stand Wednesday as one of the plaintiffs in a landmark antitrust suit against the NCAA, detailing the highs and lows of his life as a football player at a school he always wanted to attend while growing up in Alabama.
Wearing a shirt with a 'Bama logo, he said he still loves the school, and loves the attention he gets for "The Catch." But the general studies degree he finally got from Alabama in 2008 hasn't led to the riches he once thought would await him in the NFL.
And he's still trying to pay back $10,000 in student loans taken out for living expenses in summer school.
"I felt like I was good enough to make it to the next level and I could pay it back six months after I graduated," Prothro said. "I figured that if I made it to the NFL it would be easy to pay it back."
Prothro was the second former college athlete to testify in a case that is being closely watched for what it might do to the way major college sports are operated. He and 19 other former players are seeking an injunction that would allow top basketball and football players the right to profit off their images in broadcasts and video games.
If successful, the plaintiffs envision setting up a fund that would allow players to be paid once they graduate for the services they rendered on the field and court of play. The players earlier waived their rights to individual damages in the case that features former UCLA star basketball player Ed O'Bannon as the lead plaintiff.
"I don't want to change the way [college athletics] is run but it's definitely got to be something that is fair for everyone," Prothro said outside the courtroom. "The players should be involved in some way."
Prothro was an undersized wide receiver with a passion for the game and his eyes on the pros when he went up for a catch with just a few seconds left in a game Alabama was losing to Southern Mississippi in September 2005. He leaped up over a safety at the goal line, cradling the ball behind the safety's back with his arms wrapped around him, and the Tide would score on the next play and eventually win 30-21.
He would get an ESPY award for the play, which came with an expenses-paid trip to California for the televised ceremony. And an Alabama artist paid him $9,000 for his autograph and the right to make a painting of the famous play.
But he didn't get the $10,000 that Alabama received from Pontiac for the game changing play of the week or the $100,000 the school received when the now-defunct brand made it the game changing play of the season.
Three weeks after his play, he suffered a complete fracture of both major bones of his lower left leg in a win over Florida, effectively ending his football career.
"I was in one of biggest games of my career and just went up to make a play," Prothro said. "I broke both the bones in my leg and never able to recover after that."
The leg is effectively healed, though Prothro says it still bothers him at times. But his dream of being in the NFL was gone and he hasn't been able to pursue a coaching career he once wanted.
Instead he works for Coca-Cola as an account manager, taking orders and making sure customers are taken care of.
Prothro acknowledged under cross-examination by an NCAA attorney that he probably would have never gone to college without a football scholarship, and would likely have not become the first member of his family to get a college degree. He said he made many friends at Alabama, found a great mentor in an assistant coach and still likes to be around the football program.
What he likes best of all, he said later, is that people still remember "The Catch."
"All the time they come up to me and want to talk about it. That's what I enjoy," he said. "They remember 'The Catch' like it was yesterday."